Section Branding
Header Content
It's Tough To Be A Freshman, Even For Lawmakers
Primary Content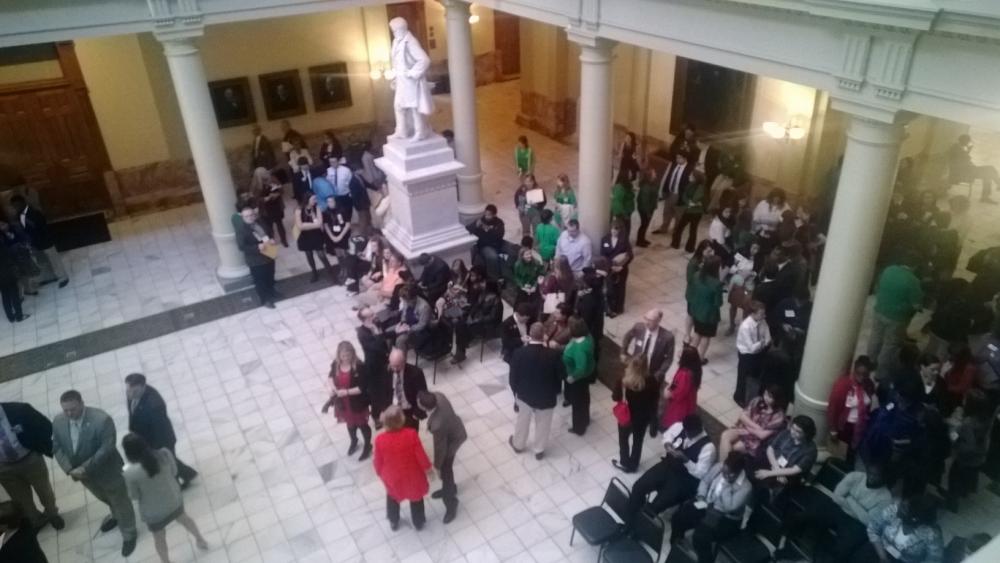 In a session that was meant to be easy, breezy and controversy-free, the state Legislature is having its share of hiccups.
First, it was the storm dubbed 'SnowJam' at the end of January when two inches of snow ground the state's capital city to a halt, in part because it appears state and local leaders were slow to take the storm seriously and coordinate the appropriate response.
Now a bill filed by a freshman Republican lawmaker has become, in the words of Uncle Billy from the film "It's A Wonderful Life," a "squall" that's "shaping up into a storm."
What's different here is that the lawmaker in question, Rep. Sam Moore of Cherokee County, is coming under a hail of criticism from members of his own party. And not just any members: the party's leadership, including House Speaker David Ralston.
And that made us here at GPB News Now wonder: how do new lawmakers know what to do?
First, a little background: Republican lawmakers were quick last week to distance themselves from the newly-minted representative after he filed a bill to overturn Georgia's loitering laws that would also repeal some of the rules convicted sexual predators must follow. We'll get to his defense below.
"This is not a Republican bill," in the words of Ralston.
Apologies and Accusations
Moore got the message, or at least part of it, and spoke to colleagues Monday morning from the House floor.
"First, I would like to apologize for any embarrassment this bill may have caused members of the Cherokee, Fulton and Forsyth delegations, the members of the Georgia State House, the people of the State of Georgia, and especially my supporters and the voters of District 22," he said. "Although my intent was pure, and my mistakes were honest, I am ultimately responsible for all my actions."
But he went on to say that no one has mentored him and no one from the Republican party reached out to him to privately point out the error of his ways.
Before the start of each two-year legislative cycle, new lawmakers receive an orientation to help them understand how the process works under the Gold Dome. But Moore, having been sworn in this month following a special election runoff, didn't have that advantage.
Moreover, he pointed to the politics behind the furor over his bill. Speaker Ralston and other high-ranking Republicans supported his opponent, Meagan Biello.
"To my political opponents: you must see me as an actual threat," he said.
Reach Out And Touch Someone
In an interview Monday with reporters, Ralston decried Moore's finger-pointing. And he dismissed the notion that Moore's mistake stemmed from not having sat for orientation or the lack of an official mentoring program at the state Legislature. The Speaker's office meets with every new lawmaker, and Ralston's staff told GPB that something like this has never happened before.
"He blamed the media, he blamed leadership," he said. "We offer them up the resources of the Speaker's office. We give them a rules' book – he has one in his desk. We give them a training manual."
But what really concerned Ralston was this:
"What I didn't hear was any disowning of the bill, which I found the most interesting part," he said. "He did not reject the contents of the bill, which is troubling."
Responding to the Speaker's remarks, Moore said in an interview: "Did he suggest that to me?"
Moore said he planned to withdraw the bill anyway, and he did so late Monday afternoon. He also said he believed the committee process would reveal his mistakes, and that the bill would be amended before it ever reached the point of a vote. And he didn't realize his bill would be public record from the moment he filed it – and hence subject to the scrutiny of anyone and everyone.
But the incident raises some questions. How are lawmakers prepared for the job of filing bills and making law? There are about 250 lawmakers serving in the General Assembly, and they come from all walks of life and practice just about every occupation you can imagine. Some have served in other elective office while others are completely "green" as Moore said of himself.
Two other freshmen lawmakers have interesting, though somewhat diverging perspectives on how to settle into life as a member of the state legislature.
Rep. Steve Tarvin of Chickamauga was also sworn in this month. In a brief interview, he defended his fellow Republican.
Ain't Too Proud To Beg: New Lawmakers Ask Questions
"I think Rep. Moore's intentions were pure and maybe some of his wording was a little out of place," he said. "Rep. Moore is a good man and has a good heart and has the Constitution in mind."
He was careful not to criticize Moore, which he said would be unfair. But it sounds like Tarvin might be a bit more proactive than Moore to ask for help. And he said he plans to hold off on introducing legislation until he "knows what's going on and what the proper procedure is."
"From the first day I was here, I found the Speaker's office very helpful when I had a question," he said. "Rep. Jan Jones' office has also been very helpful. I can't be critical of their willingness to help."
Sen. Bruce Thompson of White, Ga., took his oath of office in December. The Republican echoed Tarvin's comments, saying new lawmakers need to ask for help. And they have to take a moment to get the lay of the land.
"I was given some pretty good advice and that was: Come in, be brief, be seated and be quiet," he said in an interview. "Anytime you come into a new situation, you need to study the situation, know your subject matter and understand your surroundings."
He has two bills that he'd like to drop but on the advice of other Senators, he's decided that he won't move ahead with them this session.
"We have very good mentors on the Senate side. Some of the Senators have been here a while. They will take the time if you ask – that's important, if you ask – to help you navigate the waters," he said. "You can't be too proud to ask for help."
Moore's tumble may wind up being a footnote, if that, in the annals of the 2014 session. But the some damage may be done. Georgia Democrats have taken to using the phrase "Sam Moore's Republican Party" in communications about GOP-backed bills they deem questionable. Indeed, the minority party is eager for Georgia to see the Moore affair as quite the opposite of an isolated incident.
Now A Word About Actual Legislating
Lawmakers will be in session only two more days this week. The House won't set its Tuesday calendar until the morning, but the state Senate plans to take up several education-related bills, including one that could set off some fireworks.
That measure pertains to the Common Core education curriculum that's used in schools in 46 states, including Georgia, but has become a political hot potato among Republicans. One small but vociferous wing of the party -- incidentally, the same wing that Rep. Moore belongs to -- paints it as a federal takeover of Georgia's education system.
As a reminder, when lawmakers come to work next Monday on March 3, it will be Day 30 or Crossover Day. That's one of two key days each year at the legislature (the other being Day 40, which is the final day of the session).
The stakes are high: any bill with a chance at final passage must pass one of the chambers by the end of Crossover Day. So, start resting up for a late Monday night.
Tags: Georgia sex offender laws, loitering, 2014 general assembly, sam moore
Bottom Content