Section Branding
Header Content
Look For Longer, Deeper Arguments At The State Capitol
Primary Content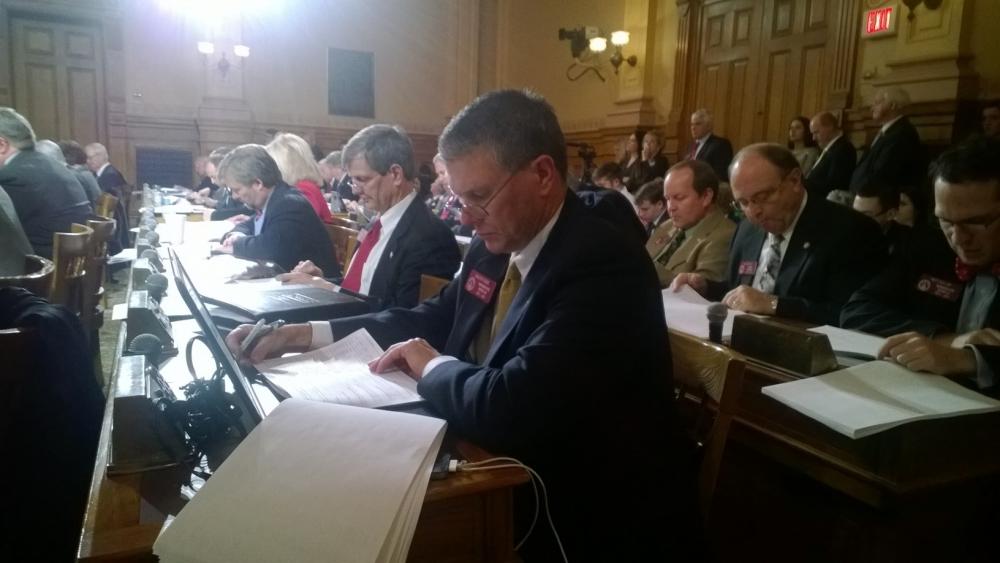 On Friday, we told you that the halls of the state Capitol were getting crowded in a sure sign that the legislative session was moving toward the final, frenzied weeks. Here's another sign: the debates on bills are getting longer.
Last week, lawmakers in the House spent nearly three hours debating an ultimately successful bill to expand where Georgians can bring a gun. They also logged a lot of time debating and passing bills to convene a Constitutional convention. And the Senate shed proverbial blood, sweat and tears discussing a bill that would privatize a part of the state's foster care system.
This week, expect more of the same.
Short Week Before The Big Day
Lawmakers will only be in session three days this week. But they are three important days because when they return next Monday on March 3, it will be Day 30 or Crossover Day. What that means, is any legislator looking to make a bill move this session needs to be sure it clears one of the chambers by the end of Crossover Day.
The House hasn't set its calendar for Monday. But another hearing on the medical marijuana bill is expected in committee this week. That measure would expand the use of cannabis oil to seizure disorders. While there is ample support for the bill, there's also some caution on the part of conservative Georgia lawmakers who don't often deal with bills that include the words "legalize" and "marijuana."
On the Senate side, don't look for any big bills to come to the floor Monday. The chamber will consider, for example, a bill to designate September Georgians of Great Character month (to be fair, the weather *is* lovely in September).
"You don't want to do any major bills on Monday after the whole weekend – it gets people riled up so you won't see anything too controversial on the calendar Monday," State Sen. Jeff Mullis, a Chickamauga Republican and the Rules committee chairman, told GPB. "But Monday for Tuesday and Tuesday for Wednesday, there could be something [controversial]. A lot of debate will happen."
The Senate appropriations committee held hearings last week on the fiscal 2015 budget, and it's possible the spending plan will come to the floor of the Senate this week.
A Breather For The Gun Bill
One bill that won't be coming up for debate again this week is the gun measure. Sen. Mullis said his chamber will wait until after Crossover Day on March 3 to debate that one. A few reasons for that: since it's already passed the House, it's not in danger of dying. But it's also because the Senate may want to amend it, particularly since there is broad debate about the rules for churches. In the current version, the measure would require churches (and bars, for that matter) to post a sign if they don't allow firearms.
And there are whispers that it could become a "hostage" bill. The Senate may decide to hold off on voting on it until the House votes on a measure that's important to representatives.
That's not something that lawmakers like Alan Powell of Hartwell want to hear.
"How many years have I been here? 20 years? I can't remember another bill that's been as vetted as this one," said Powell, referring to previous years when similar bills have been introduced.
Want to hear more about the gun bill? Tune in Monday night to GPB's On The Story for a panel discussion with stakeholders from both sides.
When Is a Republican Not a Republican?
Republican lawmakers this week will be looking to shake off what some might deem associative taint stemming from being in the same party as Rep. Sam Moore. The Cherokee Republican set off a fire-storm Friday when he filed a bill to overturn Georgia's loitering laws that would also repeal some of the rules convicted sexual predators must follow.
The new lawmaker has filed a bunch of bills, including one that would give Georgians the right to defend themselves against police if they enter private homes with no-knock warrants. The legislature's Republican leadership took to the floor in droves to condemn the loitering bill and its author. They said many things but here's the nugget:
"This is not a Republican bill," House speaker David Ralston said, speaking to reporters after the House adjourned. "This was introduced by a member who calls himself a Republican. But the protections he is trying to repeal were passed by a Republican General Assembly."
Moore, in his defense, said he believed other laws would continue to uphold those protections. And he also said he hoped his Republican colleagues would put their arms around him, and explain how things work, rather than rebuke him publicly. He also said he believed the committee process would reveal his mistakes, and that the bill would be amended before it ever reached the point of a vote.
Some Democrats were eager to point to Moore's bill as an example of what they consider an extreme strain of the party. Rep. Al Williams, a Midway Democrat, said his colleagues in the majority party should get used to this.
"As many people as condemned Rep. Moore, they are going to have more and more Moores on the floor," he said in an interview. "These far right-wingers come in, and you will see more and more of stuff like that."
He continued, "We have forgotten about the wisdom and moderation in our state seal. There ain't no moderation left. And so you will have more and more people with very extreme ideas. And unfortunately it will push some good people to the far right."
Less Than A Month To Go
State lawmakers plan to adjourn on March 20. In addition to Thursday and Friday of this week, they will be taking some breaks in between now and then, including a long weekend leading up to St. Patrick's Day (the Savannah delegation clearly has some sway).
GPB News Now readers, they will need the days off and so will you. Lawmakers have a week left to finalize what bills have a chance at final passage. And after that, three weeks to decide what measures are worth fighting for in this quickie, election-year session.
Bottom Content