Section Branding
Header Content
Study of Savannah Sand Gnats' Future Home May Move Ahead
Primary Content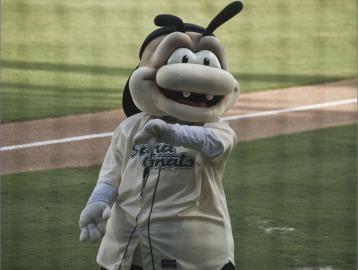 Savannah officials are preparing to seek bids this week for a study to weigh future options for the Sand Gnats baseball stadium.
The CEO of the company that owns the minor league team wants the city to build a new ballpark to replace historic Grayson Stadium.
Jason Freire of Hardball Capital asked Savannah City Council members to move faster on the issue during a meeting at city hall on Thursday.
"Grayson is not a long-term solution for baseball in Savannah. And all we're saying right now is exactly the same thing we've always said," Freire said.
Savannah alderman Tony Thomas said building a new stadium for the Sand Gnats would amount to a "subsidy" for the team's owners.
Freire said he would like the team to stay in Savannah, but suggested that's contingent on a new stadium.
"If you study it and ultimately you conclude that this is a subsidy that doesn't make any sense from the city's perspective, we fully understand you saying, 'Hey, you've gotta do what you've gotta do, and we've gotta do what we've gotta do,'" Freire said.
A spokesman said city staff will send out requests for bids and decide whether to move forward with a study depending in part on the cost.
Freire estimated an independent study of the stadium issue would cost $75,000 to $100,000.
Tags: Savannah City Council, GPB News, Grayson Stadium, Tony Thomas, Sarah McCammon, GPB Savannah, Sand Gnats, Jason Freire
Bottom Content