Section Branding
Header Content
End Of Legislative Session In Sight
Primary Content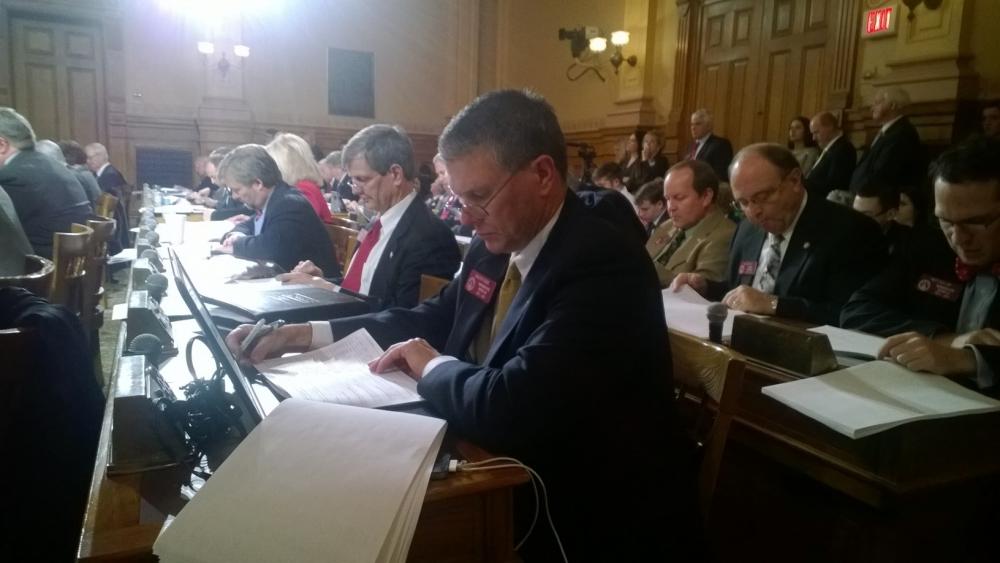 T-minus 5 and T-minus 15. That's where things stand with the state legislature.
Thursday is Day 25 of the General Assembly's 40-day session. And in five legislative days, lawmakers will observe Crossover Day on March. In 15 days, the session will end with a bang on March 20.
And between now and then, many bills will look as though they have a chance of passing. There may even be bills yet to be introduced that will pass and head to the Governor for his signature. But any bill with a shot at final passage has to pass at least one chamber by Day 30. And given the particular nature of this session, that's a high bar.
That's because Georgia will hold its primary elections in May – the earliest the state has ever held them. And lawmakers have all said this won't be the session for controversial bills or complex measures that require a lot of tweaking. That's both a recognition of the short nature of the session – lawmakers want to make a quick exit so they can begin fundraising – and the general vibe of an election year.
Politicians with something to lose – for example, Gov. Nathan Deal who's facing three challengers in his bid for a second term – aren't going to wade into thorny debates that might alienate some voters.
Experts say, given those considerations, the session is largely proceeding as expected.
"If you understood the parameters of the session, we are well on target," said pundit and policy advisor Charlie Harper.
Harper is the man behind Peach Pundit, a right-leaning blog. And he's also the point person for a new nonprofit public policy advocacy group called PolicyBEST.
A Take-No-Risks Session
"Constitutionally, we are required to pass a budget and we will," Harper said. "Anything else that happens is almost gravy."
Some may argue that the gun bill lawmakers in the House passed Tuesday would qualify as controversial. But Harper says it doesn't change the bottom line.
"Yes we passed the gun bill, and is that what the majority of Georgians were looking for? Probably not," he said in an interview.
But he said it most likely won't deter anyone who was already planning to vote for Republicans anyway. And anyone opposed to such legislation probably wasn't going to vote for Gov. Deal and the GOP.
Tom Crawford concurs with Harper's analysis of the session, citing the gun bill as a possible exception to the non-controversial approach from Republican leadership.
"Most of the bills debated and passed have been relatively minor and non-controversial," said Crawford, who publishes the political digest, the Georgia Report. "The budgets, big and little, are also moving much more quickly than they traditionally do – another indication of a quick session."
The fiscal year 2015 budget, in fact, has already passed the House in what might be a record.
Well, Maybe A Few Risks
There are some other exceptions to the get-in-and-get-out session. The State Senate passed a bill Tuesday that would privatize child welfare services. It comes in response to the death of ten-year-old Emani Moss whom police say starved to death in the care of her father and stepmother last year.
Republicans are saying it would help rehabilitate the state Department of Children and Families, which had received complaints regarding the child's well-being. That's because it would outsource services such as foster care and adoption to private companies. But Democrats consider it a power grab for big business and say that the bill would not have prevented the ten-year-old's death because she died in her parents' custody, not foster care.
And then there's the Medicaid expansion bill. Or rather, the Medicaid non-expansion bill. Republican lawmakers have drafted a bill that would bar governors – including THIS governor -- from opting to expand Medicaid. Any governor who wanted to add people to the Medicaid rolls would have to receive legislative approval.
Money And Politics
While the measure would reduce the scope of executive power, it's a measure that has the support of the current governor. And it's one Democratic lawmakers shake their heads at.
"Every decision made this year is tied to politics," said state Senator Vincent Fort, an Atlanta Democrat. "Money and politics."
Fort has made Medicaid expansion his signature issue. And he and other Democrats say expanding Medicaid would not only give 600,000 uninsured Georgians access to healthcare; it would also pump money and jobs into local economies.
Crawford says the closure of four rural hospitals in 15 months because of the lack of Medicaid money "leaves Deal vulnerable to criticism on this issue."
But a certain part of Deal's base of support is opposed to any expansion of Medicaid. And Deal's spokesman Brian Robinson says that's because it's unsustainable financially and Georgia can't afford it.
Will that bill pass? So far it hasn't cleared either chamber. It passed out of a subcomittee - not a full committee -Wednesday afternoon and urgency is increasing as Day 30 approaches.
As Harper, the pundit and policy advisor put it, "This next week is really a big week. It's almost like every day will brings us something different."
Tags: 2014 general assembly
Bottom Content