Section Branding
Header Content
Prayer Bill And A Power Shift Open Week
Primary Content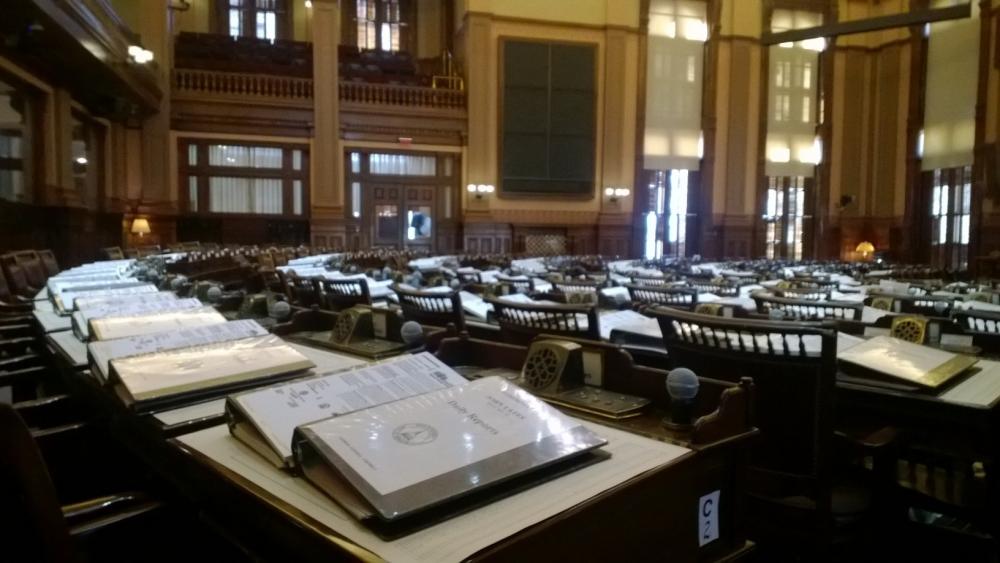 The state legislature goes back into session Monday after approaching snow and ice prompted an abrupt adjournment last Tuesday. The legislature missed several working Capitol days as the second major winter blast in less than a month hit Georgia, shutting down state government and slightly slowing the pace of the session.
The snow left about 1 million Georgians without power at some point over the course of the slow-moving storm. And you can expect to hear more about the cost of the winter storms soon. The weather disaster took temporary focus off an internal review of what went wrong and right during the first winter storm. Gov. Deal was slated to receive the findings of the internal review last week. Instead, he was overseeing one of the largest storm prep and response operations in recent memory.
For now, the state has borne the costs of the storms through the Governor's emergency fund. But officials said the second storm will be costlier than the first, with record amounts of salt coating Georgia roads and emergency crews putting in overtime.
Dusting the snow off their shoes, lawmakers on the House side Monday will jump right into debating the 2015 budget. Passing a balanced budget is the only thing they are constitutionally mandated to do while in session. We'll get to that in a minute.
But first, let's take a look at the some of the other bills and issues making news this week.
Praying Under Friday Night Lights
Monday morning will find members of the House judiciary committee vetting a bill that could instigate another round of culture wars.
The bill is sponsored by Rep. Dusty Hightower, a Carrollton Republican, and would give public school students more opportunity and more permission to make religious prayer part of school events.
It has some bi-partisan support as Rep. Stacey Evans, an Atlanta Democrat, is a co-sponsor. But it also inevitably has broad opposition from groups such as the Anti-Defamation League.
Shelley Rose with the ADL's Southeastern office in Atlanta said the U.S. Supreme Court has issued a number of rulings that limit prayer in public schools, and she said the current bill would be unconstitutional under those precedents.
She said expanding prayer in taxpayer-funded schools is problematic because "it's a setting where students are required to be." She also said in some cases the prayer would be broadcast "over a school public address system" or at football games that many consider an integral part of school life.
"Students are not required to go to football games but it is such a part of the school that if you have one student giving a prayer, other students become a captive audience," she said. "It makes it appear the school is sponsoring and authorizing it."
Prayer in Schools And Maybe Schools In Court
But more than opposing the bill, ADL will be at the Capitol Monday morning to do some educating.
"We'll try to educate lawmakers about what the possible repercussions might be for them and for local schools that could be opening themselves up to litigation," she said.
The bill's sponsor, needless to say, doesn't see a constitutional conflict. Nonetheless, Hightower said he plans to introduce a modified version of the bill Monday morning that he said should allay concerns. The new version, he said, would underline that nothing in the bill is mandatory and that rather it's a resource for schools "if they need it," or "if they're having a problem."
What kind of problem could this bill help solve?
"The schools would be able to use this law to protect themselves in court if they need to," he said.
He means if organizations threaten to sue schools for allowing or sponsoring prayer in official communications or at events. As for the constitutional issues, Hightower, a lawyer, said he modeled his bill after measures in Mississippi and Texas that have so far not been overturned.
He said the top five co-signers are attorneys, and he boasted the bill has not only strong bipartisan support, but also interfaith backing from lawmakers like Rep. Mike Jacobs, who is Jewish.
"This is about protecting religious liberties for everyone," he said. "It is not just a Christian bill."
Medicaid Power Grab, Or Maybe A Handoff
There are other bills making news this week.
State lawmakers have drafted a bill that would bar a sitting Governor from opting to expand Medicaid. Any governor who wanted to add people to the Medicaid rolls would have to receive legislative approval.
While the measure would reduce the scope of executive power, the current governor is just fine with that. His floor leader, Rep. Chad Nimmer, is a co-signer of the bill.
Brian Robinson is Gov. Nathan Deal's spokesman. And in an interview, he sought to disavow any notion that this bill was designed to dissuade Deal from backing off his staunch opposition to expanding Medicaid as part of the Affordable Care Act.
"He did give the go-ahead to his floor leader to sign on as a sponsor. That is a signal of support for this legislation," he said. "So yes the Governor was on the front-end of this. We want an additional firewall to such an important decision."
Under the federal healthcare law known as Obamacare, the feds would pick up all of the costs of adding 600,000 uninsured Georgians to Medicaid for the first three years. But Deal and others say the state cannot afford to pay for the extra enrollees once the federal government eases back on its contribution.
Robinson said there are voices swirling around the Capitol that say Deal is going to change his mind and give into the expansion as other states have. But he said this bill should put a stop to those voices.
"The Governor has never wavered, the Governor has never stuttered in his opposition to the Affordable Care Act and the expansion of Medicaid that's included," he said. "This is just a further indication of his opposition."
And as for the people who think Deal will "cave" after the May primaries or the November general election, Robinson has an answer for them.
"We're not going to suddenly have hundreds of millions showing up in the state treasury after the primaries or the general election to pay for this," he said.
You'll hear more about this bill. That's because state Senator Jason Carter, a Decatur Democrat who is challenging Deal in the gubernatorial race, cites Deal's refusal to expand Medicaid as a failure to lead.
Budget On The House Floor in Record Time
The House is scheduled to vote on the so-called "big budget" on Monday. (A word about the status of the "little budget" or the "amended" below.) The FY 15 spending plan passed out of committee last week and veteran House appropriations chair, Terry England, says that might be a record.
"It is the quickest in my memory, but I really haven't kept a running track of the dates," the Auburn Republican said. "We are usually just getting the amended out of the House around Feb. 14th, so this is pretty early."
Lawmakers refer to the current-year budget – in this case, the 2014 budget – as the "little budget." And it's passed both chambers and will soon be heading to Gov. Deal for his signature.
With the other issues we've mentioned keeping lawmakers busy, the budget is likely to be the least controversial thing that happens this week.
Bottom Content