Section Branding
Header Content
Volunteers Conduct 'Canine Census' In Macon's Lynmore Estates Neighborhood
Primary Content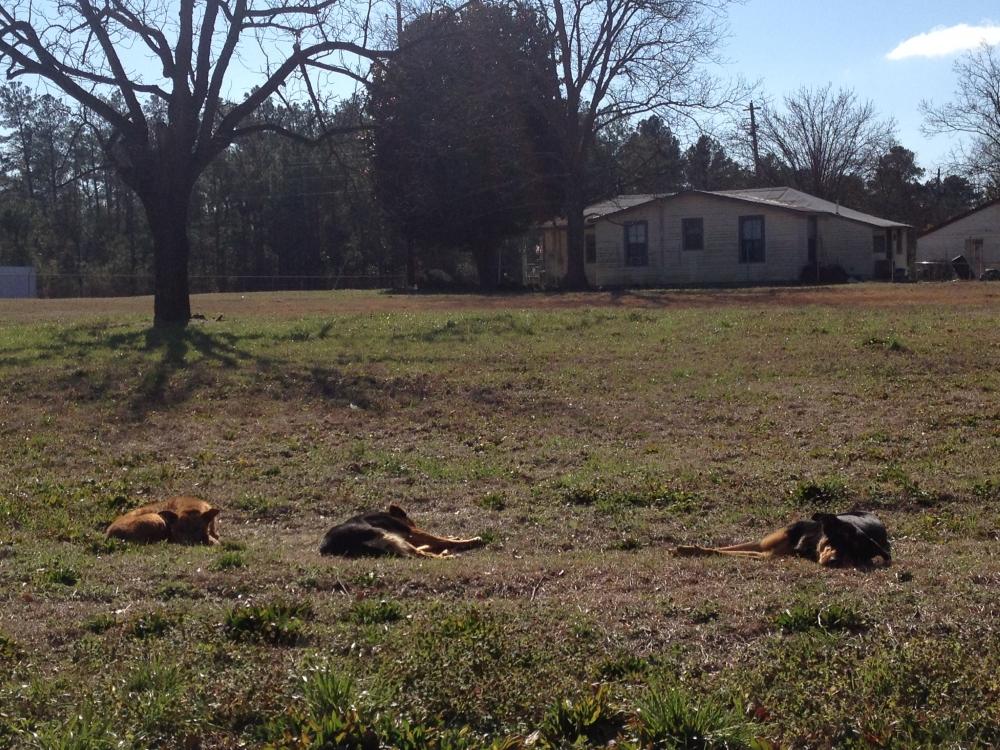 Stray dogs regularly sun themselves in the open field across from Estanislao Malcolm's house on Marion Place.
"Yesterday I saw a total of about ten dogs around here," Malcolm said of his Lynmore Estates home. They don't cause him any trouble, he said, "but I don't think they should be here ... and if the dogcatcher comes around, I guess they don't ever try to get them or nothing. They're just there."
About 30 volunteers organized by Macon Area Habitat for Humanity went door to door in Lynmore Estates Saturday performing a "canine census," counting dogs and making note of whether each has been sterilized and inoculated against rabies and other diseases.
Habitat has been working to improve this low-income south Macon neighborhood—also known as the Peach Orchard—for five years. They've built dozens of houses, and recently embarked on a program to knock down blighted properties.
"We can build houses, but the next issue is 'how do we change the neighborhood?'" said Lynn Farmer, who is a Habitat board member. "One of the biggest complaints about the neighborhood is all the dogs that are running loose and, you know, chasing kids."
The results of the census will help Habitat apply for a grant to fund sterilization, fencing, and other initiatives to address the problem, said Sundra Woodford, who is Habitat's Neighborhood Revitalization Coordinator.
Things got off to a rocky start when members of the Peach Orchard Rescue Group—an unincorporated group of volunteers working with the Paws and Adopt rescue organization—arrived at the staging area to see two Macon-Bibb Animal Control vehicles parked next to the cars of other volunteers and Habitat staff.
Some threatened to leave if Animal Control officers did not, telling Woodford that neighbors would be disinclined to talk to them if they believed doing so would put them at risk of getting a ticket.
"Animal Control is often seen (as) the person who writes the tickets, the person who picks up the stray dogs, and they euthanize dogs," said Farmer, who also works with Paws and Adopt. "Animal rescuers get very upset about that because they believe that all dogs can be saved."
After speaking with Woodford, the animal control officers left the area before volunteers split into groups to begin canvassing.
Eddie Redding, who lives in a Habitat-built house on Irving Avenue, led the expedition up his street. The first house they approached belonged to Wesley Hendrick, his grandmother Julie, their German Shepherd Sookie and Brittany Spaniel Toby.
Sookie has been spayed, Hendrick said. But Toby has not been neutered. Volunteers took note and offered Hendrick any of the dog houses, chew toys, and hundreds of pounds of donated dog food. He declined, but shared his concerns about some other neighbors' dogs.
Redding said he was eager to volunteer for the canvassing because the Peach Orchard Rescue Group had helped him care for two neighbor dogs. Redding's neighbors "had moved off and left them, they were real poor," he said.
Redding said the rescue group had put up a fence, given him a dog house and helped with dog food.
Some neighbors "love their dogs but they just can't afford the shots and the dog houses and all that," he said.
Four hours into the process, Redding and other volunteers checked in with more than 150 homes.
"I am very pleased, everybody's working together, they're happy," despite the earlier tension, Woodford said. "The residents are opening their doors to them."
Habitat will likely have a census report completed by Tuesday, Woodford said. The next step will be for Habitat and its partner organizations to hold another event where dog owners can get help for their animals, she said.
This initiative is serving as a model for other local Habitat organizations around the country, Farmer said.
"They're all looking at this to see how this works in changing the culture of a neighborhood," she said.
Tags: Habitat For Humanity, stray dogs, Adam Ragusea, The Blight Among Us, Lynmore Estates, the Peach Orchard, Macon Area Habitat for Humanity
Bottom Content