Section Branding
Header Content
Savannah Airport Welcomes Jet Blue
Primary Content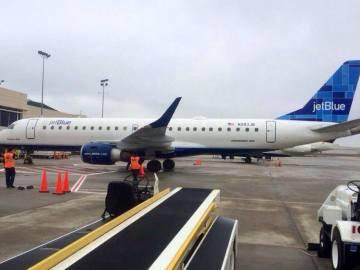 A group of Savannah residents landed in the city Thursday morning on Jet Blue's inaugural flight into Savannah-Hilton Head International Airport.
A welcome party in the terminal hailed the discount airline's arrival as good for local businesses.
VisitSavannah President Joe Marinelli says he hopes travelers reward the airline by buying tickets.
"If we don't support airlines like JetBlue when they come into the marketplace, we already know what can happen," Marinelli says. "We saw that with AirTran."
Airline ticket prices out of Savannah soared when AirTran left the market six years ago.
AirTran cited lack of ticket sales in pulling out of Savannah.
JetBlue's first flight into Savannah carried local dignitaries and regular travelers from New York's Kennedy Airport.
"The addition of JetBlue coming in from two markets in the Northeast, New York and Boston, gives us, as a destination, an opportunity to attract new visitors from that part of the country that maybe have not visited before," Marinelli says.
The welcome party included a luggage-toting Forrest Gump, blueberry ice cream from Leopold's, blue cocktails and a cake sculpture that featured the Savannah, New York and Boston skylines.
Tags: New York City, GPBnews, Savannah Hilton Head International Airport, orlando montoya, Joe Marinelli, VisitSavannah, Boston, JetBlue, discount airlines, Forrest Gump
Bottom Content