Section Branding
Header Content
New Book Explores Slavery In Savannah
Primary Content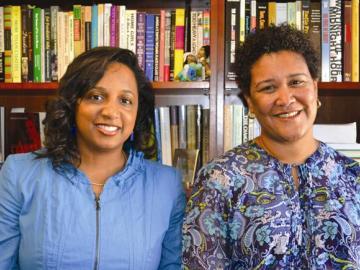 Eleven years ago, Emory University history professor Leslie Harris wrote about slavery in New York City.
She was vacationing in Savannah when a local historian encouraged her to continue studying an often overlooked part of slavery's history.
"When we think about Southern slavery, the first image for most people that comes to mind is the plantation," Harris says. "Urban slavery is different."
Harris teamed up with historian Daina Ramey Berry of the University of Texas to edit a book that looks at slavery in Savannah from A-to-Z.
Berry says the institution morphed to fit whatever place it existed.
"You find a number of enslaved males working in the shipping industry," Berry says. "We found male and female enslaved laborers working in brick-making factories in Savannah. And we also have two sidebars that deal specifically with the industrial quarter that Savannah was a part of."
Savannah timber mills, iron foundries and railroads relied on slaves, as did the city's grandest homes.
And it wasn't just the type of work that made slavery here different.
Harris says proximity to others created a potent mix.
"Enslaved and free African-Americans have relationships, form communities," Harris says. "One of the striking things in Savannah is the existence of the African Baptist churches there."
Slaves moved more freely in the city.
But control was still absolute.
Berry says the book also sparked new research into areas just oustide Savannah.
"There is an essay in the volume by Tim Lockley who talks about the marooned communities that were outside of Savannah where enslaved people lived in isolation off the land in sort of swampland area," Berry says. "This is one of the first studies, I think, for the United States where people have talked about that, outside of The Dismal Swamp."
The Dismal Swamp is an area where blacks lived independently in Virginia and North Carolina.
Savannah's Owens-Thomas House, a unit of the Telfair Museums, was largely behind the volume.
The Telfair will launch "Slavery and Freedom in Savannah," published by the University of Georgia Press, on Wednesday at the Jepson Center for the Arts.
Tags: Savannah, Emory University, history, books, GPBnews, orlando montoya, Slavery, Daina Ramey-Barry, Leslie Harris, University of Texas, University of Georgia Press
Bottom Content