Section Branding
Header Content
How Much Storm Prep Should We Pay For?
Primary Content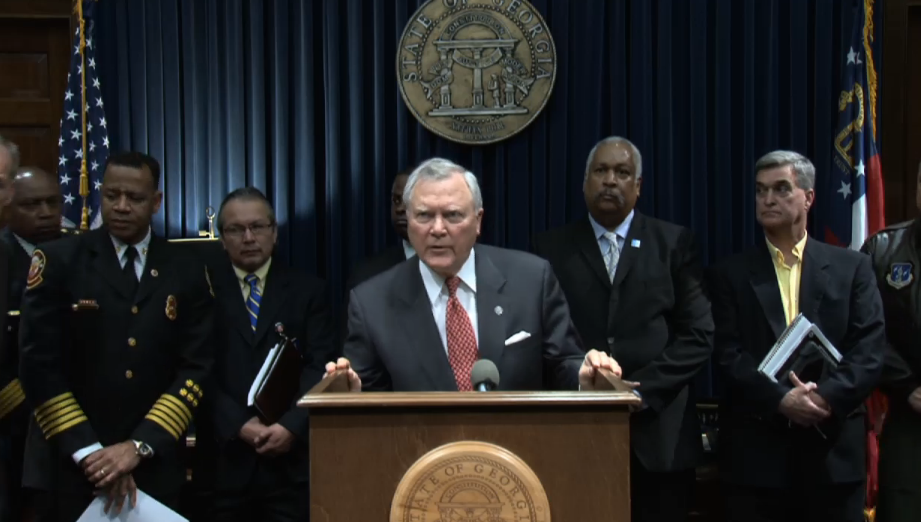 What kind of storm preparation do Georgians want to pay for? That's what Your GPB News Now correspondent is wondering, as we await another blast of ice, snow and freezing temperatures. It's coming on the heels of a storm whose two inches of snow paralyzed the Atlanta region two weeks ago.
As of 11 a.m. Monday, Gov. Nathan Deal had convened the Operations Command team, which includes heads of all the pertinent state agencies and representatives from Georgia Power, among others. As of 1 p.m., 45 of the state's 159 counties were under a state of emergency, though no precipitation had begun. Deal toured GDOT's salt facility Monday afternoon.
In Atlanta, Mayor Kasim Reed said he had doubled the pre-treatment operation to 60 spreading vehicles, thanks to contracts with private companies.
This is a change from Mayor Reed's tone last month when he told a reporter that his endless questioning about what city officials knew and when suggested he may be expecting a level of preparation that's unrealistic and that has significant cost implications.
Plans are also in place to enforce a law mandating trucks avoid Atlanta's downtown connector if they're not making any stops within the Interstate 285 Perimeter Highway.
We Won't Get Fooled Again
Of course, all of this preparation and prevention activity stems from the fact that thousands of Georgians were stuck in their cars or at their schools or their places of employment two weeks ago. People couldn't get home because the roads were too icy to pass and there were too many cars on them at once.
Georgia became a laughingstock of the national media, and the blame fell squarely on government leaders who failed to heed a national weather service storm warning that came hours before the flakes started to fall.
But in the wake of the finger pointing and lesson-learning, some people worry the government will start over-reacting.
Both Gov. Deal and Mayor Reed have pledged to be more aggressive in taking official steps to prepare for storms. Deal said that in taking "weather warnings more seriously. And there will be as a consequence of that more occasions in which we will declare emergencies where the emergency will not manifest itself."
When The Roads Freeze, Tax Spending Flows
So let's talk about the economic implications of potential over-reach.
"Whatever level of storm preparation the state thinks is appropriate costs money. The more sand the state buys, the more plows the state buys or hires, the more it costs."
That's Alan Essig who runs the left-leaning Georgia Budget and Policy Institute. I checked in with him, and another person who follows state and local budgets: Benita Dodd with the right-leaning Georgia Public Policy Foundation.
It's unclear what the total cost of storm prep will be this winter. Gov. Deal's spokesman said the additional resources his boss is marshaling for the storm this week will come from his emergency fund.
Essig said the question is how big a priority will winter storm prep become for Georgia in the budget, and how much money can the state afford as it practices conservative budget principles.
"It's just another sign that state has been nickel and diming everything, and has no plans to stop nickel and diming everything and that there are consequences to that," he said. "Whether it's the Mayor [Reed] or the Governor, they are all trying to balance a limited budget."
He said the approach boils down to this idea: What's the minimum we can spend? And, whatever that is, we'll just cross our fingers that it will be enough.
Outsourcing Storm Prep To The Experts
Dodd sees the issue a bit different. She played down the idea of over preparation, in part because she said the forecasters are predicting this storm will be bad enough to warrant the precautions the state is taking.
Indeed, Aaron Strickland with Georgia Power classified the potential of this ice storm as "catastrophic" at the Governor's press conference, noting there's "fear" about how bad it will be.
"Trying to work with private contractors on gravel and salt, I think, is a great idea," Dodd said. "We don't deal with this weather on a routine basis like Northeastern states. In my book, over-preparation would be having all of this equipment on hand and maintaining it."
But she said, state and municipal governments have to be smart about storm prep.
"When I heard the idea of letting people out of work in stages, well that's ridiculous," she said in a telephone interview. "Everyone will make a run for the door."
Nonetheless, she agreed there may be a natural tendency toward over-reach because she said, "People do expect too much from government." But then, she said they're not prepared for the cost.
Or as Gov. Deal put it, "Over-reaction has an economic impact and under-reaction has an economic impact."
What We Can Expect From Government This Week
State lawmakers will report to the Gold Dome for work Tuesday morning. But both chambers of the state legislature have already passed resolutions that would allow their leaders to make the call about whether to hold the session Wednesday and Thursday. As of now, they are scheduled to stand in adjournment on Friday and Monday for the President's Day holiday.
If they choose to bag the session for most of this week, they'll press pause on a host of issues playing out at the state Capitol. For example, there's a bill to expand the use of medical marijuana, which was in committee again Monday. And there's also a measure to loosen gun restrictions. Stay tuned – we'll let you know if lawmakers are around the next few days to move these bills forward.
Bottom Content