Section Branding
Header Content
Macon Animal Shelter Break-In Might Not Have Been What It Seemed
Primary Content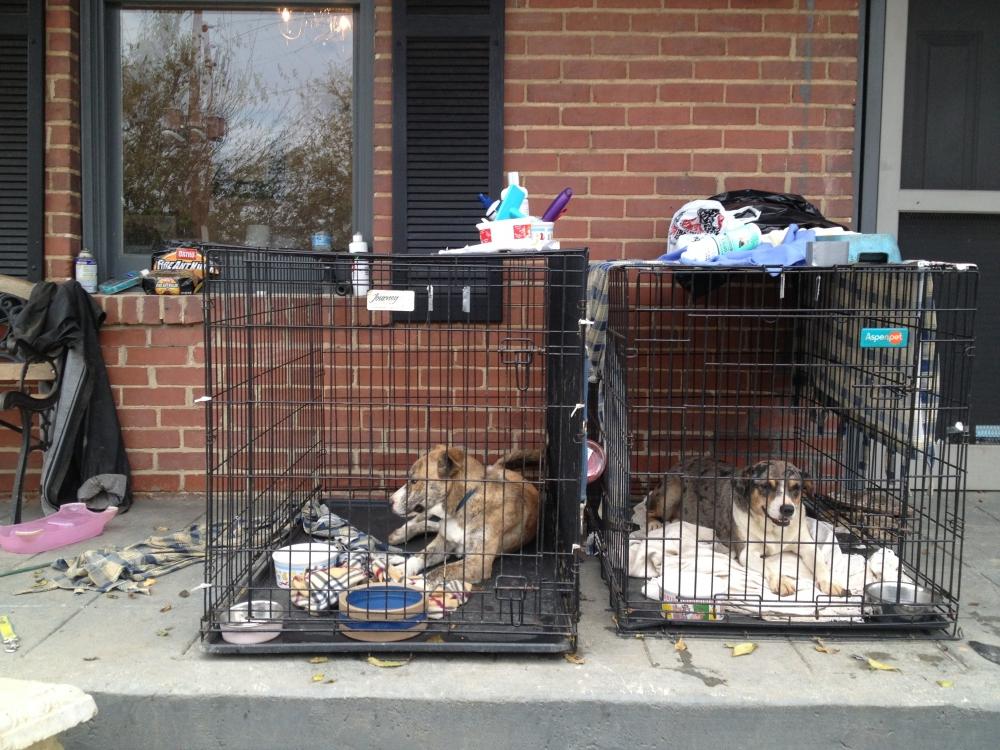 A Macon woman faces criminal trespass and felony theft charges relating to an incident that outraged animal lovers after a grand jury returned the indictment against her Tuesday.
Three dogs died and more than a dozen were injured at a downtown Macon animal shelter in October. At first, volunteers at the All About Animals shelter said it looked as though someone had broken in and staged a dog fight there.
But with the release of new information Tuesday, the truth looks as though it might be very different.
Animal welfare advocates are nothing if not active on social media, so it didn't take long for what happened in the fall to make national news. All signs indicated an infuriating conclusion: dogs—some of whom had just been rescued from fighting rings—were made to kill each other in the very place they were supposed to be safe.
"Definitely someone broke in, we think they got over probably a short fence over there," said volunteer Lacey Templeton at the time. She was among the many people who swarmed the shelter the morning of October 17 to pick up the pieces after the break-in the night before.
"They only let out the bully breeds. So they let out the pit bulls, the American bulldogs, and the boxer mixes, so anything big and burly was what was out," she said.
At the time, Templeton said dogs don't generally maul each other to death without being "encouraged, and exacerbated, and poked at…I mean we have no idea what happened here but I think someone broke in to cause and watch a fight."
In the days ahead, local donors and national organizations came together to offer $18,000 in reward money for anyone with information.
A month later, Macon police Lt. David Freeland announced an arrest.
"The suspect's name is a Crystal Gale Fessler," he said — not a gang of a known dog fighters, but a 36 year old woman whom investigators believed acted alone.
Freeland declined to say why she may have done what she allegedly did. "We are not going to mention about her motives or her actions at this time till the (Bibb County District Attorney) has had a chance to look at this case," he said.
That was two and a half months ago. Now that prosecutors have their indictment, investigators are sharing the surprising truth.
Fessler claims she mistakenly believed she was breaking into a "kill shelter" where unwanted dogs are euthanized. She says she scaled the fence and opened the cages to rescue the animals; things got out of hand, a dog bit her on the arm, and she fled.
"It's just really, you know, kind of hard to believe," said Mindy Harrison who volunteers at the All About Animals shelter and has been speaking to media the organization's behalf.
"You know, why didn't she come forward and say 'hey, I'm sorry, I made this mistake, I thought you were a kill shelter'? But you know, she didn't even stay around to let us know what happened, we had to sit there and figure it out ourselves," Harrison said.
Prosecutors declined to speak for this story aside from giving basic information. But the fact that "animal cruelty" is not among the charges they've filed indicates they don't believe they can prove Fessler intended to harm any dogs.
If Fessler's version of events is true, it means the animals weren't poked or prodded into a frenzy – they hurt themselves.
Nonetheless, Fessler still bears responsibility, Harrison said. "Individually they're great dogs, but with that many dogs out, something is bound to happen like that."
Some good has come of this episode. Donations for All About Animals have poured in. Families as far away as Switzerland have offered to adopt, but some of the dogs may never be the same, Harrison said.
They're still skittish after the melee they survived.
Tags: animal cruelty, All About Animals, Adam Ragusea
Bottom Content