Section Branding
Header Content
Savannah Business Leaders Push For Sand
Primary Content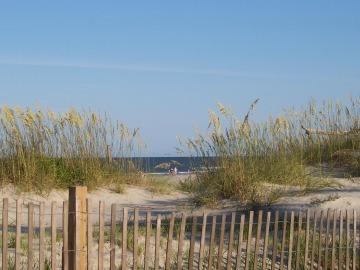 Savannah-area business leaders are going back to the legislature this year and asking for a familiar bit of spending.
Local lawmakers want state funds to expand the beach at Tybee Island.
A little bit of Tybee Island washes away with every high tide.
Big storms also deliver a wallop to the beach.
And so after a while the grand strand looks more like a wimpy sliver.
The last time officials spent taxpayer money to restore the beach to picture-postcard glory was five years ago.
Savannah Area Chamber of Commerce President Bill Hubbard says local business leaders are making beach renourishment one of their top priorities for this year's legislative session.
"You've got to have a wonderful beach associated with any island," Hubbard says. "That's why people go. And our beach washes away for a lot of natural reasons. So, every once in a while, we've got to go through that process of re-investing in it."
Tourism is the No.1 industry in the Savannah area.
And summer visitors are Tybee Island's bread-and-butter.
The next renourishment is expected to cost $19 million.
The federal government is expected to pick up 60% of the bill.
Tybee Island State Representative Ben Watson says he'd like lawmakers to fund beach renourishment a little each year so officials don't have to make a big request every five years or so.
"It is an economic development boost for the whole community and the whole state," Watson says. "We're one of three beaches on the 100 mile coastline of Georgia that has a beach that's accessible to the public. So it's certainly important from that standpoint."
The beach will join many other legislative budget requests next year.
Tags: tourism, Tybee Island, state lawmakers, Savannah Area Chamber of Commerce, orlando montoya, beach renourishment, Ben Watson, 2014 budget, state representative, 2014 general assembly, Bill Hubbard
Bottom Content