Section Branding
Header Content
Coastal Georgians Are Digging For Drinking Water
Primary Content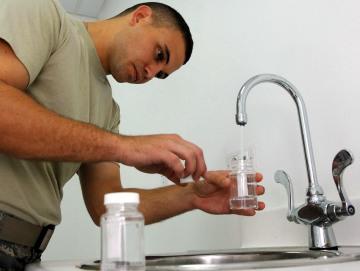 State environmental officials plan to study whether it's possible to dig deeper for drinking water along the coast.
The Environmental Protection Division is trying to stop an intrusion of saltwater.
Salty sea water is moving into the Floridan Aquifer at the rate of 400 feet a year.
That's because the Savannah area pumps so much water out of it.
New withdrawal permits are already banned.
The EPD's Napolean Caldwell says a deeper aquifer, called the Cretaceous, could be a potential new source.
"We want to find out whether or not the Cretaceous is a viable and economically feasible source that we might direct some of those users to in the future as we continue to refine our management strategy," Caldwell says. "The state's interest here at this point is to look at tools that might help us effectively take the kind of management actions to further forestall the rate at which the saltwater-freshwater interface is moving."
But water from the Cretaceous aquifer is more expensive to reach.
The study will look at new technologies designed to make it cheaper.
Tags: Savannah, Environmental Protection Division, Georgia Environmental Protection Division, coastal Georgia, GPBnews, drinking water, Atlantic coast, orlando montoya, State Environmental Protection Division, floridan aquifer, cretaceous, Napolean Caldwell
Bottom Content