Section Branding
Header Content
State Lawmakers Launch New Attack On Affordable Care Act
Primary Content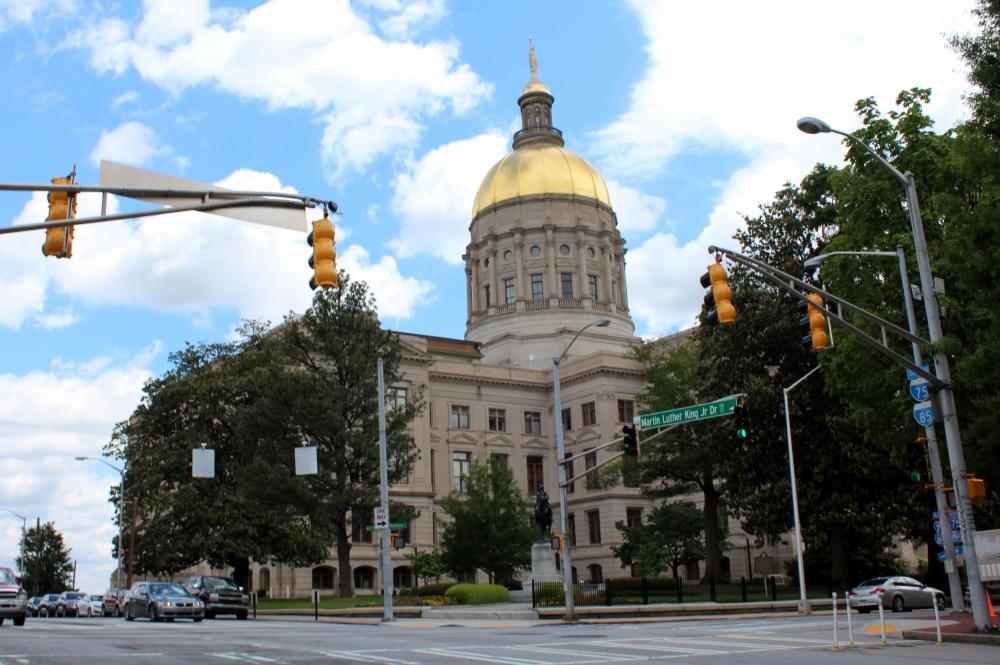 A group of five Republican Georgia state legislators opened up a new line of attack against the Affordable Care Act Monday, following their counterparts in South Carolina in a movement that could soon involve other conservative states.
"Our (proposed legislation) simply says the state of Georgia and any political entity, any agency, any public university or college will simply not be able to implement Obamacare at all," said lead sponsor Rep. Jason Spencer (R-Woodbine) in a news conference on the State Capitol steps.
"We're telling the Obama administration: 'If you want the ACA in Georgia, you're going to pay for it and you're going to implement it. And don't expect aid from Georgia in doing so," said co-sponsor state Rep. Michael Caldwell (R-Woodstock).
The two separate bills – also co-sponsored by Rep. David Stover (R-Newnan), Rep. Scot Turner (R-Holly Springs) and Rep. Kevin Cooke (R-Carrollton) – are based on model legislation drafted by the Tenth Amendment Center, a libertarian think tank in Los Angeles. Legislators in South Carolina are currently trying to pass nearly identical measures.
The Center's "Nullify Obamacare in 4 Steps" plan calls for state legislators to pass laws forbidding state agencies "from enforcing, assisting, participating or providing material support to the Affordable Care Act."
State democrats oppose the legislation. "Millions of Georgians are already benefiting from the Affordable Care Act," said Democratic Party of Georgia Chair DuBose Porter. "Republicans want to do away with covering Georgians with pre-existing conditions, a policy now banned thanks to Obamacare."
"The Party of No essentially wants to deny health coverage to millions of Georgians," continued Porter. "Rather than work with Democrats to find solutions to our state's health care needs, Republicans yet again prove they have absolutely no ideas of their own."
If passed in Georgia's upcoming legislative session, Spencer's bills could roll back changes under the Affordable Care Act that have already taken effect in the state, said Cynthia Zeldin, executive director of Georgians for a Healthy Future.
"Earlier this year, the (Georgia) Department of Community Health implemented a primary care provider rate increase for Medicaid providers that was required under the Affordable Care Act," Zeldin said, and that pay bump for doctors could be in jeopardy if Spencer is successful.
Another existing policy that could be affected, Zeldin said, is a Georgia law that requires so-called "healthcare navigators" who help people sign up for coverage to be licensed by taking a state exam.
Some Georgia navigators are employed by Georgians for a Healthy Future with federal grant money, and their jobs likely would not be affected by Spencer's bills. However, other navigators who are employed by the University of Georgia might be.
"It is deplorable that Georgia Republicans would sink this low to stand in the way of keeping Georgians healthy," wrote the Young Democrats of Georgia in a statement. "Should it pass, this fight is going to cost Georgia millions in legal defense of this blatantly unconstitutional law."
But Spencer's approach is on sound legal footing, said Mercer University law professor David Oedel. "No state can declare a federal law null and void. But the federal government, by its own terms, can't commandeer the states to do its own bidding," he said.
Oedel was part of the legal team that represented Georgia in its court challenge to the Affordable Care Act. Combined with other states' cases, it reached the U.S. Supreme Court in 2012. Justices upheld all parts of the law except that which required states to expand Medicaid eligibility.
The rights of states to actively non-cooperate with some aspects of federal law were first established in the 1842 Supreme Court case Prigg vs. Pennsylvania, Oedel said. In that decision, the court ruled that the abolitionist government of Pennsylvania was under no obligation to enforce the federal Fugitive Slave Act, which allowed slave owners to recover runaway slaves in free states.
Assuming that Spencer's legislation was passed and upheld by the courts, Oedel said, it's hard to say how health care in Georgia would be affected. "The ACA is such a complex creature," he said.
Contributors: Ellen Reinhardt
Tags: Affordable Care Act, obamacare, Ellen Reinhardt, Adam Ragusea
Bottom Content