Section Branding
Header Content
Pilot Program Helps Rural Georgia Probationers Stay Out Of Prison
Primary Content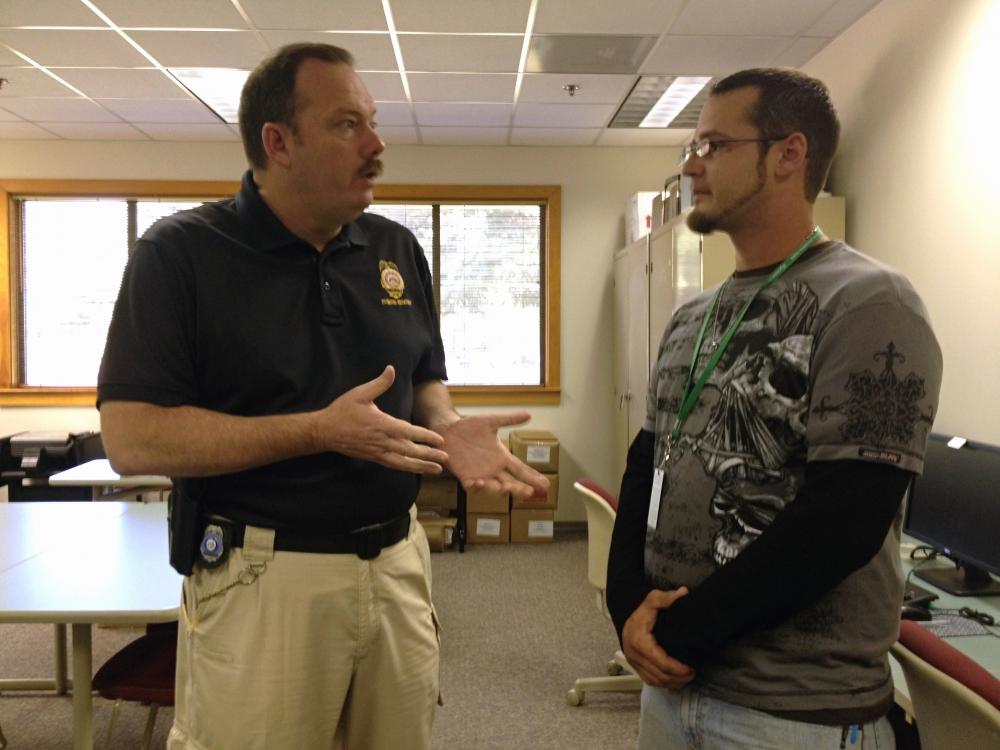 In Sandersville, trucks on the road are caked in red Georgia clay, kaolin mining is the top industry, and some of the government services that people in larger communities enjoy just aren't available.
But this tiny city halfway between Macon and Augusta is one place where Georgia Department of Corrections officials are piloting a program that seeks to even the scales between urban and rural justice, giving people who've gotten in trouble with the law an equal shot at getting their lives back on track.
On a recent Thursday morning, Sandersville Probation Officer Christopher Burke visited with one such person, 31-year-old probationer Chet Mull.
"He's been on probation with us for a couple of months now," Burke said as he drove to observe Mull working on his GED at Oconee Fall Line Technical College. "He doesn't really talk a lot, and actually he started talking more since we got him on probation."
Burke stepped into the college's main building and found Mull walking in a hallway.
"How's everything going with you today Chet?" Burke asked in a friendly tone.
"Good," Mull replied.
After a cordial exchange in which Burke verified Mull's address and other basic information, the conversation came to a head.
"You ain't using drugs or alcohol or anything?" Burke asked.
"None at all," replied Mull, who was arrested earlier this year with three illegal items.
"I got caught with methamphetamines, marijuana," Mull explained, pausing for a long time as he decided whether to divulge the last contraband on his list.
"Uh, and a sawed-off .22 (caliber rifle)," he eventually confessed.
Since Governor Nathan Deal signed a second round of criminal justice reforms into law in April, judges have had more latitude to ignore mandatory jail sentences for non-violent drug crimes such as Mull's, and can opt instead for probation.
The state Department of Corrections offers intensive drug counseling and other services designed to keep probationers from reoffending at Day Reporting Centers, or DRCs, in 14 regional urban centers, such as Macon, Columbus, and Savannah.
Until recently, no such services were available to probationers in the more remote areas of Georgia. But the DRC Lite program, now in its second year, puts bare bones equivalents in 11 rural judicial circuits across the state.
At a total annual cost of $750,000, the program pays for Officer Burke to give Mull some extra attention. It also pays for Mull to spend four days per week at the Sandersville Probation Office in group counselling sessions.
"We teach a class that helps them get ready to make a change in their lives," said Ruthie Turner, the part-time DRC Lite program counselor in Sandersville. Turner also teaches a substance abuse program and skills that will help probationers re-enter society — "how to do a résumé, how to do a job interview, how to dress for those things," she said.
The classes have helped Mull add structure to his life, he said.
"I'm hoping to pass my GED and go further into welding, get custody of my son, open our own business," Mull said.
Of the 60 probationers who have graduated the DRC Lite program so far, corrections officials said, only three have gotten into serious trouble with the law again.
This particular program is only one of several new state initiatives aimed at making it easier for people to stay on the straight and narrow, especially in rural Georgia.
The state parole board has a new "virtual office" program that allows parole officers to visit with people via videoconference instead of making them travel. Low-risk parolees can even check-in through an automated voice recognition phone system.
"This is definitely part of a national trend," said former Atlanta Journal-Constitution reporter Adam Gelb, who now researches corrections issues for the Pew Charitable Trusts.
"Policy-makers from both sides of the aisle are increasingly recognizing that we're not going to build our way out of the crime problem with more and more prisons," he said. "It's the most expensive, least effective way to deal with these lower level offenders."
The list of states that are leading the way on reform, Gelb said, includes a mixture of red and blue: Oregon and South Carolina, California and Georgia. What those states have in common is that most were hit hard by the recession.
It costs Georgia more than $50 a day to keep an adult in prison, and just about anything is cheaper than that, Gelb said.
Tags: Georgia Department of Corrections, criminal justice reform, Adam Ragusea, Day Reporting Center, DRC Lite
Bottom Content