Section Branding
Header Content
Georgia Groups Unite For Longleaf Pine Restoration
Primary Content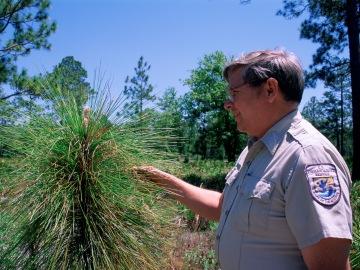 The Obama administration wants to expand efforts to restore the South's once-sprawling longleaf pine forests.
The proposal could benefit a Georgia collaborative that's just getting off the ground.
Twelve public and private organizations will sign an agreement next month to unite efforts to restore longleaf pine forests in Georgia.
The pines are key habitats for wildlife and also fuel the timber industry.
But the trees are down to 4.4 million acres or just 4% of their historic range.
Randy Tate of the Longleaf Alliance says the partnership could apply for federal grants to expand the forest.
"It's a chance, it's an opportunity to get the forest back," Tate says. "The forest is important for nature study and for wildlife. And longleaf pine planted by private landowners is a wonderful economic benefit, too."
The $20 million White House proposal would protect forests at Georgia's Okefenokee National Wildlife Refuge and other places.
"We're very excited about the current initiative," Tate sats. "That's establishing a framework across the range of longleaf pine, which is from Virginia down through the South to East Texas. So, a framework is being developed of local restoration partnerships to do the work."
But the administration proposal hinges on uncertain Congressional funding.
That's why Interior Secretary Sally Jewel recently visited with stakeholders in a similar partnership in South Carolina to lobby for it.
"It's clear that collaborative efforts among federal, state, local and private partners have been and will continue to be key to successful conservation of the longleaf pine forest," said Jewell. "Congress needs to do its part by fulfilling its promise to provide the funding under the Land and Water Conservation Fund, not only for this partnership, but for the communities across the country who are trying to protect the places they cherish most."
Some of the entities involved in the Georgia alliance include the Georgia Department of Natural Resources, the Georgia Forestry Commission, the Georgia Land Trust, the Nature Conservancy, Georgia Power and International Forest Company.
In the Savannah area, Ft. Stewart also is playing a leading role in restoring longleaf pine forests.
The military base has large stands of longleaf pine, as does the Marine Corps' bombing range near Townsend.
But you don't have to access a military base to see these impressive trees.
In fact, Tate says, many people drive by a good stand of longleaf pines at a cemetery on Skidaway Road near 52nd Street every day.
And Armstrong Atlantic State University also has several good examples, mingled among the more prevalent loblolly and slash pines on campus.
You can differentiate the longleaf pines by their larger (but less numerous) cones, their more "bushy" needle clusters and, when they get older, their flat tops.
The flat tops indicate trees that are at least 70 years old, like many on the AASU campus, an arboretum where GPB Savannah is located.
Tags: trees, South Carolina, Armstrong Atlantic State University, White House, public private partnership, Longleaf Pine, GPBnews, Obama administration, orlando montoya, Hunter Army Airfield, Interior Department, Longleaf Pine Initiative, Okefenokee National Wildlife Refuge, timber industry, federal budget, Georgia wildlife, Secretary of Interior, Ft. Stewart, Longleaf Alliance, Randy Tate, Sally Jewel, arboretum, Land and Water Conservation Fund
Bottom Content