Section Branding
Header Content
Analysis: High Court Ruling Puts All School Boards On Notice
Primary Content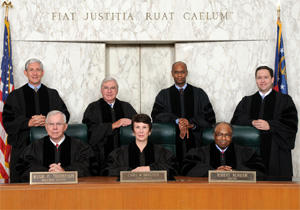 In a ruling issued Monday, the Georgia Supreme Court said Governor Nathan Deal acted within his authority when he suspended six members of the DeKalb County School Board in February.
More specifically, the court ruled that a 2010 state statute empowering the governor to do so is in keeping with the state constitution.
The court's unanimous ruling affects local boards of education across the state.
In a different case out of Warren County last year, the court upheld the governor's right to suspend locally elected school officials accused of specific ethics violations. But the DeKalb County decision extends the governor's power one step further, said Mercer University law professor David Oedel.
Accreditors cited general mismanagement as being the reason for the suburban Atlanta school system's poor performance, leading Governor Deal to take action.
"One of the objections that was made by the people that have been removed from the DeKalb County school board was that they didn't have any particular malfeasance, it was just a general problem with bringing their school system to the brink of no accreditation," Oedel said.
"And the court said it really doesn't matter to a parent or the children of that system how the group got to this bad place."
The DeKalb case was having an effect on other school systems even before it was decided, Oedel said. In Bibb County, he said, the board of education has noticeably reigned in its dysfunctional tendencies in recent months for fear the governor might intervene.
"Local school boards need to fly straight or they're going to have some state oversight, and appropriately so," Oedel said.
"As the court pointed out, the (state) constitution itself in its Article Eight talks about education as being a concern to the state. It's not just an incidental local thing, it's important to everybody in this state that all the children are well-educated."
Oedel is surprised the court's 47-page opinion was so detailed, as well as being attributed to all of the justices instead of one individual author, he said, adding it's clear the court wanted to put this issue definitively to bed.
Bottom Content