Section Branding
Header Content
Dirty Dozen: Mapping Georgia's Water Problems
Primary Content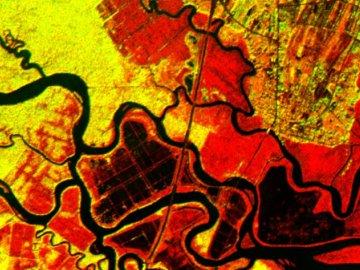 From the mountains to the coast and everywhere in between, Georgia waterways are under stress.
That's the main message coming from this year's third annual release of the Georgia Water Coalition's "Dirty Dozen" list.
The list highlights what environmental groups consider to be the most pressing water quality issues in the state.
Chattahoochee Riverkeeper Sally Bethea says the list is not ranked in any particular order.
"The Georgia Water Coalition publishes this annual list as a call to action for our state's leaders and its citizens to come together and correct pollution problems, eliminate the wasteful use of our state and local tax dollars and restore our streams, rivers, lakes and coastal wetlands," Bethea says.
The 2013 list includes three issues that were highlighted last year.
These returning issues are the proposed reservoirs on the Chattahoochee River, the industrial discharges into the Altamaha River and the proposed water withdrawals from the Savannah River.
Among new issues, coalition members are highlighting proposed changes to development setbacks along Georgia coastal waterways, including protected beaches and marshes.
And they're calling for action on the subject of dam safety following a May dam breach at Lake Alice in Metro Atlanta's Forsyth County.
Flint Riverkeeper Gordon Rogers says he doesn't want anyone to have the impression that there are only 12 water quality problems in the state.
"Some of these are important new things," Rogers says. "Some of them have languished for a while. And some of them represent real opportunities for some healing change on the political front."
The Georgia Water Coalition is a consortium of more than 200 conservation and environmental organizations, hunting and fishing groups, businesses and faith-based organizations.
The complete list was scheduled to be posted at this link.
Tags: Forsyth County, Altamaha River, Savannah River, Gordon Rogers, Chattahoochee River, GPBnews, Georgia coast, orlando montoya, Sally Bethea, dam safety, Lake Alice, Georgia Water Coalition, Dirty Dozen
Bottom Content