Section Branding
Header Content
Erosion Threatens Coastal History
Primary Content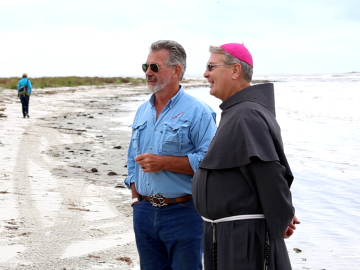 One of Georgia's Spanish Colonial sites is slipping into the coastal marsh.
Archaeologists are documenting what remains of the 16th Century settlement.
To tell the story, however, we have to get a little religion first.
About two dozen people pray in a grassy field.
"Aleluia, aleluia," the worshippers sing.
They're sitting on wooden pews.
In the ground below them, lie the remains of a Catholic church that burned centuries ago.
We're on remote St. Catherines Island, a 30 minute boat ride from the mainland south of Savannah.
Only two people live here, the island manager and his wife.
But, on this day, Bishop Gregory Hartmayer has invited pilgrims to celebrate a mass for Spanish priests killed here during a 1597 Native American uprising.
Tags: Savannah, coastal Georgia, history, GPBnews, Catholic Diocese of Savannah, orlando montoya, archaeology, erosion, Bishop Gregory hartmayer, Royce Hayes, David Hurst Thomas, St. Catherines Island, American Museum of Natural History, Gillian Brown
Bottom Content