Section Branding
Header Content
SpongeBob Filming Attracts And Disrupts
Primary Content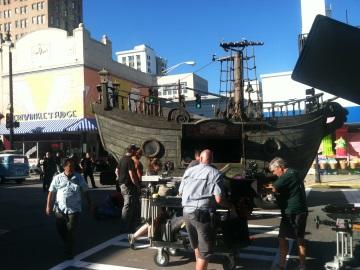 A film about the legendary New York punk venue CBGB opens in theaters today.
The movie is one of many shot in Savannah, like Forrest Gump and Midnight in the Garden of Good and Evil.
Now, filming for "SpongeBob Squarepants II" is taking over the city like few before.
Savannah's Broughton Street is the center of filming for the movie.
The street's normally sedate facades have been painted over with bright yellow, sky blue and the colors of sand.
The area resembles a seaside village, like Bikini Bottom, the underwater home of SpongeBob Squarepants.
Paramount Pictures has put up signs that could confuse someone who doesn't know this is both a working downtown and a movie set.
A convenience store is now a fudge shop.
A cafe now sells bouys.
And a library is now a museum.
Wisconsin visitor Joanne Gibson was crossing what was the intersection of Broughton and Abercorn.
It's now the intersection of Port and Breezy.
"We just happened to be walking down the street this morning and saw what was happening," says Gibson. "So we decided to stop."
Filming in the street, a man and a woman get into a taxi.
A giant fan blows some trees.
And the take is over in a few seconds.
Gibson and her friends clap.
But SpongeBob isn't around.
A crew member says, he'll be digitally added to the scene.
A headset-wearing assistant keeps me and others from walking down sidewalks.
Virginia visitor VirginIa Crabb and her husband don't mind being blocked because they have a special connection to one of the film's characters.
"Our last name is Crabb," says Virginia. "So we call my husband Mr. Crabbs. So we came down here to see what SpongeBob was doing."
It all has the feeling of a big show, too much of one for some business owners.
Andrew Biando recently opened a Broughton Street soap shop, Morgan's Soapworks.
"No one's really paying attention to our stores right now," says Biando. "Everyone's paying attention to sort of the street and just walks by."
It's noon and no one has walked into the store yet, something Biando says is unusual.
"That's what they told us, that it would be small areas closed off from the public, and they would annoy us for two days maximum," says Biando. "But I'm kind of surprised to see the entire street, sort of one big spectacle."
Complaints about the movie in part prompted officials to fire the man who recruited films to Savannah for 18-years.
Ross Arnsdoff runs a clothing store called Gaucho.
He says filming for Forrest Gump in 1993 hurt business more than this film.
He says while there could have been better communication from the city, the end result is positive.
"You know, I think it's very exciting to have them here and have them in our city," says Arnsdoff. "They've done a lot with buildings that have needed cleaning up and needed attention."
Outside, a Paramount Pictures truck pulls up with tropical plants.
Workers place them in boxes on the street.
Elsewhere, temporary palm trees dial up the city's beachy feel.
Michael Jarema of the city's film commission says the Spongebob Squarepants movie is expected to contribute $8 million to the city's economy.
"Obviously, a film of this size taking place in our downtown corridor has a lot of impact," says Jarema. "It's inconvenient for residents and businesses alike. But is it worthwhile? Is it healthy for the city as a whole? Absolutely."
The production will take back all the tropical motifs and return the city to its usual historic ambiance once filming wraps up in a few weeks.
Tags: GPB News, orlando montoya, Michael Jarema, Savannah Film Commission, Spongebob Sequel, Paramount Pictures, Ross Arnsdoff
Bottom Content