Section Branding
Header Content
Georgia Power Expanding Solar
Primary Content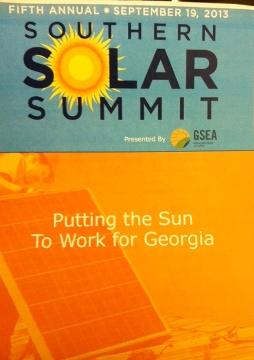 The state Public Service Commission in July voted to require Georgia Power to add solar-generated wattage. The Advanced Solar Initiative will acquire 210 megawatts of additional solar energy through 20 year contracts awarded over a two year period. State regulators called on the company to add an additional 525 megawatts by 2016. When combined with the solar already being used by the utility, the expansion will be enough to power nearly 360 thousand homes. The company will buy some of it from businesses with rooftop solar arrays. But Georgia Power will purchase the bulk of it from large solar farms.
Matt Cox, a doctoral candidate in public policy at Georgia Tech, said solar could grow faster in Georgia if state lawmakers set up specific requirements as California and New Jersey do. But he said a reduction in production costs is what is spurring development in Georgia. "We have seen dramatic declines in the price of the systems. And those are definitely expected to continue into the future. So the ability to cost-effectively install solar power is only going to increase." Cox said the new plan is a large expansion for solar in Georgia. He says
Ervan Hancock, Renewables and Green Strategy Manager for Georgia Power, said the legislature doesn't need to pass renewable energy standards. He said "Mandates and paying more for generation resources and what value they provide raises costs. If you look at Georgia Power, for the last 26 years we've had rates that were 13 percent below the national average." Hancock said by waiting until production costs came down, Georgia Power was able to keep costs to customers down. He said customers won't see an increase in their bills due to the increased amount of solar.
Hancock said solar is here to stay in Georgia. Georgia Power this week announced it has named Norrie McKenzie to the newly created position of vice president of renewable development. His department will be responsible for supporting and cultivating the company's renewable generation portfolio, managing purchase power agreements related to renewable generation and fostering capital investment in Georgia.
Even with the additional solar the company is adding, it will only make up about 2 percent of it's energy mix.
Tags: Georgia Power, solar power, Southern Solar Summit
Bottom Content