Section Branding
Header Content
Georgia's $90 Million Film Studio
Primary Content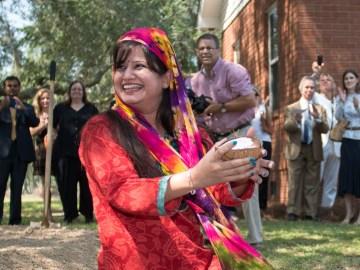 Medient Studios broke ground on a $90 million film studio in Effingham County near Savannah on Thursday.
Company officials also announced how they plan to finance an ambitious construction plan.
Medient Studios right now has about 22 employees.
In 12 years, they have made 14 films, according to Jake Shapiro, President of M2 Music at Medient Studios.
Now, company officials are planning to build what they're describing as the nation's largest studio.
"Nothing like this compares in scope," Shapiro says. "We're going to do to Hollywood what the Japanese did to Detroit."
They plan to make up to 12 films a year.
Their plans also call for two million square feet of soundstages, thousands of homes for thousands of employees and futuristic-looking, eco-friendly buildings for movies and tourism, including a 10,000-seat concert venue.
Reporters on Thursday were given a tour of the soggy pine forest where company officials plan to build the studio.
Regional economic and political officials appeared for a groundbreaking ceremony.
Kumaran told the crowd that some investors haven't been comfortable with his plans to "change the world" of movie-making.
"We've been told multiple times that this cannot be done and that you're not going to survive," Kumaran says. "But we are here. We are very, very happy to be here."
Company officials describe their business model as turning decades of Hollywood economics on its head.
By that, they mean returning to a "studio system" of movie-making.
That's a vertically-integrated system in which films are created and produced from start to finish "in house," by the same company.
Plans call for Medient workers to live and work on a Google-like campus in Effingham County.
Kumaran says the current model is too expensive.
"We are a small company. But we are in the process of acquiring the necessary elements that will make this happen," Kumaran says. "And I'm 100% confident that with our partners and with the people of Medient we're going to make this happen."
Kumaran on Thursday announced the final $40 million piece in a financing puzzle to make the initial construction phase possible.
That phase, scheduled to begin in December, is aimed at starting filming by the end of March.
Tags: Effingham County, GPBnews, orlando montoya, film, hollywood, Georgia movies, Medient, Medient Studios, Georgia movie Industry, Effingham County Development Authority, Medient Entertainment, Ranu Kumaran, Jake Shapiro, Guyton
Bottom Content