Section Branding
Header Content
50 Years Later: The 'Quiet Conflict'
Primary Content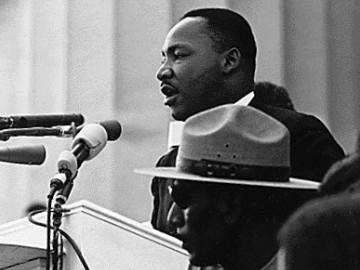 As cities nationwide mark the 50th anniversary of the March on Washington, they also celebrate local leaders who were foot soldiers in the crusade for non-violent change.
Along Georgia's coast, in historic Brunswick, local leaders made national headlines in the 1960's by embracing cooperative change early and quickly.
It's a forgotten footnote in Civil Rights history.
It took me much of 2008 to dig through historical archives and track down some of the people who were involved.
And in 2009, GPB aired this story. I'm please to present it here again:
In 1963, the world saw Southern white resistance to integration.
In September of that year, Dr. King spoke after white supremicists killed four girls in a Birmingham church bombing.
"What murdered these four-girls?" King asked. "The apathy and the complacency of many negro who will sit down on their stools of do-nothing and not engage in protest to get rid of this evil system!"
King had just delievered his "I Have a Dream Speech."
It was in this racially-charged month when Brunswick made headlines for a different reason.
Whites were going to court fighting FOR integration.
The New York Times had this dispatch from Brunswick on September first, 1963:
The Board of Education and the municipal authorities of this beautiful coastal city are fighting for a voluntary school desegregation plan against a group of whites who are trying to kill it through judicial procedures.
The city already had an integrated bowling alley, skating rink, tennis courts and parks.
It would soon get integrated beaches and golf courses, all with the co-operation of white officials.
On national television news, Brunswick became a "model Southern city" for race relations.
Still, many today don't know the story or how it happened.
At the Martin Luther King Junior Day parade in Brunswick, high school marching bands pass and kids carry King's image.
I asked young people about the men and women involved in the local struggle.
"Do you guys learn about local people, what they did in the sixties here in Brunswick?" I asked a group of girls.
"Ummm. No, no we don't," they said.
"The Reverend Julius C. Hope? Do you know the Reverend Julius C. Hope?" I asked a boy.
"Naw, ain't that that dude overseas?" he said.
The Rev. Julius Ceasar Hope was at the center of Brunswick's quick and early integration.
A pastor at Mt. Zion Baptist Church and local NAACP chief at the time, he now lives in Detroit.
"To tell you the truth, I can't think of no area in Brunswick that didn't co-operate," Hope said.
Hope and others quietly cultivated a culture of acceptance in the city, negotiating change with generally receptive white authorities.
CBS later made a documentary about the Brunswick achievements.
"It was called 'The Quiet Conflict,'" he said. "It was a conflict, but it was quietly done."
Hope says, the movement was quiet in part because he and others kept early successes out of the media to avoid attention.
They also preferred a strategy of dialogue over protest.
Anglican minister Robert Wright recalls blacks and whites meeting at what was then a St. Simons Island bank.
In 2008, it was a realty office.
"It hasn't been a First Federal in about 20 years," Wright said as he approached a door he hadn't seen in 35 years. "Somebody came out of the door. I hope the room is still there like it was."
In 2008, the room was partitioned.
But back then, it was more of a meeting hall where, after bridge and Kiwanis, a secretive Biracial Committee would enter through a shady back door to avoid attention.
"And we would talk about the problems and if anybody knew of any avenue that could possibly help to integrate the next group that we could work with," Wright said.
If someone knew a business owner they could sway, they met with him.
If someone knew anyone who could help prevent a conflict, they called.
Another local Civil Rights activist, Robert Griffin, remembers the night the Rev. Hope got a call from the local police chief.
"This must have been 12:30am or one in the morning," Griffin said. "He told Reverend Hope that they had two black males up in Norwich Street Lane that had just robbed a mini-market."
The armed men were holding police at bay in a dark alley.
The police were ready for a shootout.
The chief wanted Hope to talk the men out.
"The Rev. Hope started telling the guys who he was. 'Hey now guys,'" Griffin imitated Hope and laughed. "He used a lot of slang talk. 'Hey now, this is the Rev. Hope. We want y'all to come out. If you got guns, lay 'em on the ground. Put your hands on your head and Mr. Griffin and I are going to see that you're not harmed.'"
The men came out and were safely escorted to jail.
"During this period of our history, shooting a black boy wouldn't have meant nothing to most communities," Griffin said. "But this is the working relationship that we had and I will never forget that experience."
Time after time, this happened in Brunswick.
The Jacksonville KKK came. And the police told them to leave.
The Rev. Hope threatened a protest. And the committee found a solution.
Of course, it wasn't easy. Full integration took years. And the city had its own KKK.
Homer Wilson, aged 86 in 2009, the city's oldest living ex-mayor, knew some of them.
"One of them was so adamently opposed, that he felt like they ought to bomb," Wilson said. "They integrated the pools and they desired to bomb the pool with the children in it. They couldn't understand my being born in the South, raised in the South, how I could accept some things. But I know life is a constant change."
The bombing never happened.
Those involved have many theories about why it happened this way in Brunswick.
Some say, the city didn't want bad press as it lured industry.
Others say, the port, with its coming and going of people, moderated racial attitudes.
But in the end, Brunswick wasn't the only Southern city to end legal segregation peacefully.
Atlanta famously became the "city too busy to hate."
Wilson believes, it was simply character.
"Leaders have to realize that we all must live the remaining days of our lives with each other, so why not?"
Biting poverty still exists in Brunswick.
So do slums and other social ills that King worked to rectify.
But at least, as the nation marks 50 years since King's "I Have a Dream" speech, Brunwick can celebrate its "Quiet Conflict," quietly or not.
Tags: Atlanta, NAACP, Brunswick, Civil Rights, New York Times, St. Simons Island, history, Brunswick Mayor, race relations, GPBnews, Georgia coast, orlando montoya, desegregation, integration, Georgia History, KKK, March on Washington, nonviolence, Dr. Martin Luther King Jr.'s "I Have A Dream" speech, 50th anniversary of the march on washington, Julius Hope, Mt. Zion Baptist Church of Brunswick, Robert White, Robert Griffin, Homer Wilson, Quiet Conflict
Bottom Content