Section Branding
Header Content
Brooks Holds Re-Enactment
Primary Content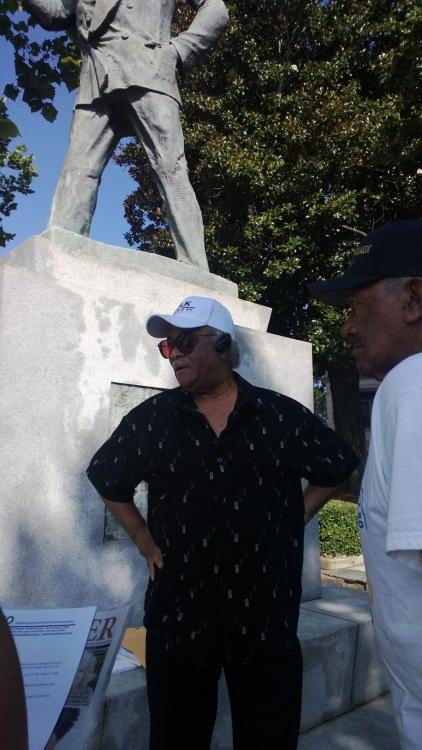 State Rep. Tyrone Brooks announced details today about his annual re-enactment of the 1946 killing of two black couples in Monroe, Ga. The Atlanta Democrat wouldn't discuss embezzlement charges pending against him but instead said he will soon name suspects in the unsolved lynching.
Brooks declined to address a review panel's decision not to suspend him from office.
His May indictment alleges he misappropriated more than $1 million in charitable funds.
Brooks wouldn't say when he'll release a list of suspects in what's known as the Moore's Ford Bridge case.
Four people and an unborn baby died at the lynching on the Oconee-Walton county line in northeast Georgia.
Law student Lauren Atwater is studying the killings with a Syracuse University cold case team.
"I think even though some people would look at it and go, 'This happened in 1946. Let it go. What's your purpose?', every time you find a new fact, you always go, 'Let's try to connect these facts and at least try and piece it together,'" she said.
Atwater said there are dozens of suspects but most are dead.
Brooks said he's mulling over plans to retire from the General Assembly. First elected in 1980, the Atlanta Democrat faces 30 counts of mail fraud, wire fraud and false tax returns.
He made the remarks at a press conference about his annual re-enactment Saturday of the 1946 killing of two black couples in Monroe, Ga.
Brooks wouldn't address a state review panel's decision not to suspend him from office other than to say the press has followed the case closely.
"Anytime anyone wants to make an accusation about you, they can do that, and you folks will jump all over it," he said to reporters.
He will be up for re-election next year. He wouldn't make an announcement about the race but hinted that he's served his time.
"Thirty-four years it will be for me next year, 34 years and, I've said I have another life to live and I have things I want to do," he said.
The charges involve Brooks' relationship with Universal Humanities, a charity he founded in 1990, and the Georgia Association of Black Elected Officials.
Tags: Democrat, GA., Tyrone Brooks, Monroe, embezzlement, re-enactment, 1946 killing of two black couples, charges pending, suspects, unsolved lynching.
Bottom Content