Section Branding
Header Content
Governor Could Appoint Brooks Panel Friday
Primary Content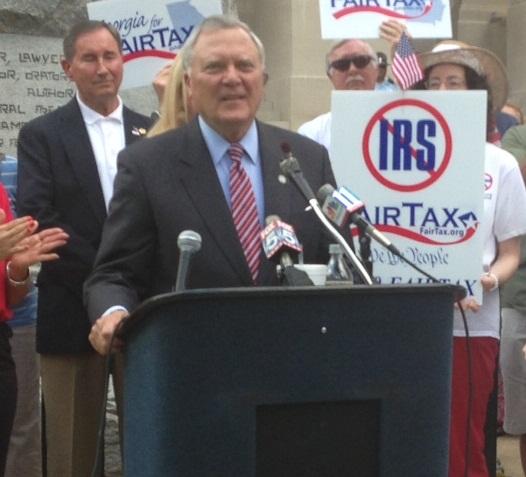 Governor Nathan Deal will likely announce his appointments Friday to a review panel tasked with deciding whether to suspend State Representative Tyrone Brooks, D-Atlanta.
Brooks was indicted by a grand jury in May for 30 counts of fraud and tax charges. According to the indictment, Brooks used money from his charity, Universal Humanities, for personal expenses. Brooks pleaded not guilty to the charges.
By law, after a legislator is indicted for a felony, the Governor must appoint Attorney General Sam Olens and one lawmaker each from both the House and the Senate to the review commission.
Georgia State University Political Science professor Steve Anthony said the Governor will probably try to make the panel appear as unbiased as possible.
"Legally he doesn't have to make sure it's balanced. I mean, he has the discretion to appoint whom he wants," said Anthony. "He can reach out across the spectrum, but I think to make the system respected, not necessarily this commission's decision, but to make this process respected, I think he has to try to put a variety of different people on there."
Anthony said with so many options, it would be nearly impossible to guess who the Governor might choose.
"You'd have a better chance of guessing who it will not be," Anthony joked. "The problem is with those two categories, of course the Attorney General's locked in, but the House and Senate can be man, woman, rural, urban, black, white, Democrat, Republican and so he's got to decide again, not only what would look fair, but who would serve."
Finding someone who would accept the job could be difficult, Anthony explained, because the decision the panel reaches could have political implications.
"Let's just take a hypothetical; if a black Democrat was appointed and they voted not to suspend, they're not going to suffer any political ramifications in their district. On the other hand, if a Republican was picked and they voted to not suspend, they might suffer," said Anthony.
Under the law, Governor Deal was required to wait 14 days before appointing the panel, though he can choose to extend that time period.
Tags: Georgia, fraud, tax, Governor Nathan Deal, Representative Tyrone Brooks, indictment, felony, review panel, federal charges
Bottom Content