Section Branding
Header Content
South Georgia's Personal Photographer
Primary Content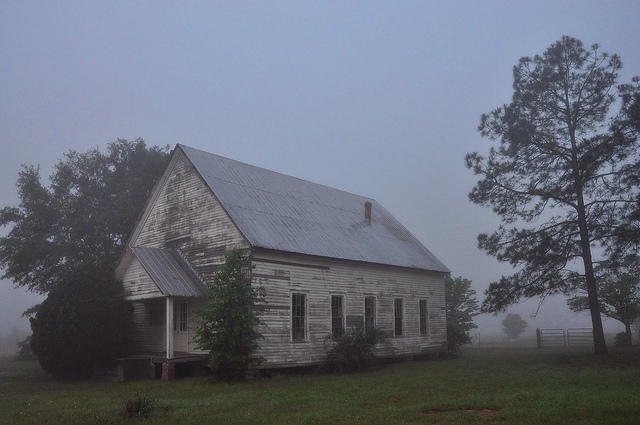 Abandoned gas stations, old churches and boarded-up corner stores litter Georgia's countryside and small towns. They tell the story of what once was. And one self-taught photographer has made it his mission to help keep the memory of these lost places alive through his portraits.
Brian Brown is standing in front of a vacant strip of three century-old buildings outside of Warrenton. If you're coming from Atlanta, that's 40 miles shy of Augusta.
There are few signs of life, and some of the storefront windows are broken. Inside the buildings, a morass of old furniture, supplies and trash sits willy nilly.
"Right now, we're seeing an old grocery store, a Coca-Cola mural, which a lot of small towns still have that. They're called ghost signs – a lot of people really like those," he said. "Just signs of former life, a former busy place. You can tell the place was a lot busier at one time."
In fact, it was a busy intersection along a rail line. The South Georgia native in his early 40s has stopped here to take photos and talk about his passions: old buildings, abandoned communities and preservation.
Gazing into the grocery store with his face pressed against the glass, Brown describes how life once was at this quiet former hamlet.
"This is etched into the glass, and it's almost gone: W. M. Moore, General Merchant," he said.
"So he probably sold a little bit of everything?" this reporter suggested.
"A little bit of everything," Brown replied. "In fact, oftentimes not only would they have sundries and groceries, but here next door he may have owned the whole structure here and may have sold seed for planting, feed for animals and livestock."
He added, with a chuckle, "Kind of the Wal-Mart of the early 20th century."
Brown's passion is also now his livelihood, and this dot on the map is a typical stop in his new career.
A former teacher and hotel worker, Brown has built a Web site, vanishingsouthgeorgia.com, and a following with his photographs, shot mainly south of Macon, of forgotten places far from Atlanta's sprawl.
Much of what he shoots is in ruins: a shuttered convenience store, a vacant house, or a cluster of empty buildings where a town once stood.
And he's taken a lot of photos.
"Four thousand images in five years, that I've posted, approximately," he said.
On this particular day, Brown has ventured into the rural, green backroads of northeast Georgia. And driving around, Brown describes how it all started in 2008.
"I moved back to my hometown of Fitzgerald, from Atlanta, and out riding with friends, I basically noticed a lot of places from my childhood – tobacco barns, old country stores, as I've mentioned – these places were no longer where they once were," he said. "I would ride down a dirt road and an old landmark of my childhood was gone."
He's parlayed the Web site into paying photography gigs and a book. But it's more than a job. It's a mission. Trained as an historian, Brown began taking photos with a goal:
"I use my camera as a preservation tool," he said, holding his camera.
And that's an invaluable service, says Mark McDonald of the Georgia Trust for Historic Preservation, a nonprofit that saves old buildings. Some historic structures, he says, will simply be lost.
"He's documenting buildings that literally may not be here next week," he said in an interview at his office in Atlanta. "So in historic preservation, if you can't save a historic building, the last step is to document it."
Brown also sees an opportunity in the wide-spread use of cell phone cameras and a burgeoning interest in documenting everything. He thinks that could bring tourists to rural towns and places.
McDonald agrees that people are drawn to sights they don't see everyday.
"There's a growing group of people who are fed up with generic," he said. "They want to see something unique, and authentic."
Brown says he'll keep on taking photos. With so many of rural Georgia's old buildings in peril, he says he's just getting started.
Tags: photos, Georgia Trust for Historic Preservation, Warrenton, Fitzgerald, Vanishing South Georgia, old buildings, Brian Brown
Bottom Content