Section Branding
Header Content
Little Richard Gets Hometown Honors
Primary Content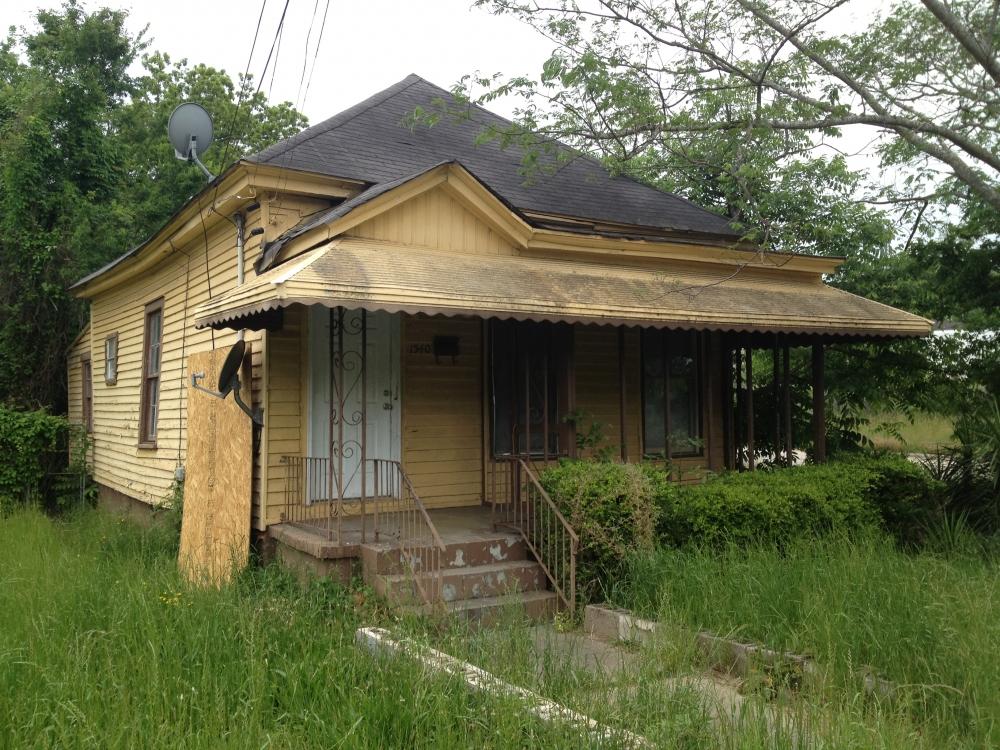 It was the weekend of "Little" Richard Penniman in his hometown of Macon. On Saturday, "the Architect of Rock n' Roll" was in town to pick up an honorary degree from Mercer University.
The afternoon before, kids at L.H. Williams Elementary School in Penniman's old neighborhood of Pleasant Hill provided music for a special announcement — one that was no accident of timing.
The Richard Penniman Resource House
"We're here to celebrate the fact that Little Richard, Richard Penniman, his boyhood home at the corner of 5th Avenue and Middle Street has been acquired by the Georgia Department of Transportation," said Peter Givens, president of the Pleasant Hill Neighborhood Improvement Group.
A wide-eyed mural of Penniman himself smiled down from the cafeteria wall, as Givens laid out a plan that's been four years in the making.
"This house will be moved to Craft Street" about four blocks away, Givens said. "Which will be across the street from our Pleasant Hill community garden, and it will turn into what we call the Richard Penniman Resource House. It will house the history of Pleasant Hill."
Wrong side of the highway
After the announcement, Ben Sandifer and I decided to walk over and have a look at the house for ourselves. (Sandifer is, among other things, host of a podcast called Solid Gold Sock Hop and a fount of Macon music history knowledge.)
"Last time I saw it, it had been painted hot pink," Sandifer recalled as we struggled to find the house.
We were on the right street, but the wrong side of the highway.
The fact that I-75 bisects this historic neighborhood's original street grid is, of course, the very reason the Penniman house is being moved. GDOT plans to massively expand the I-75/I-16 interchange, while spending $10 million to move buildings and otherwise soften the blow on the surrounding community.
We eventually came upon the now yellow late-Victorian shotgun house, all slumping and overgrown. It's not tiny, but it's awfully hard to imagine the young Penniman living there in the 1930s and '40s with his parents and 11 siblings.
'You know I'm from Macon, Georgia'
"It sort of reminds you of Elvis's birthplace in Tupelo," Sandifer observed. "There's not a whole lot to it, it's just a little small house."
The big difference being that Elvis's boyhood home has been a museum since 1992. Meanwhile, Little Richard's boyhood home has been a rental property, valued on the county tax rolls at about $20,000.
"There was a time that Macon, sort of, turned its back on Little Richard, because…the early days of rock n' roll, 'the devil's music' and all that," Sandifer said. "He has never done that to Macon, though. Every interview I've ever seen, every concert, somehow he works in there that he is from Macon, Georgia."
Indeed, one of Penniman's first responses in a 2004 interview began: "Well, you know I'm from Macon, Georgia. At the time it was a little country town. It's still small place, but it was a little bitty place then. And I didn't like to sing like nobody else, I didn't like to play like nobody else. And I was considered a crazy, and stupid, and backwards."
Doctor of Humanities
Times have changed, as was demonstrated this past Saturday when Mercer University president Bill Underwood approached the commencement podium in his academic regalia and proclaimed: "Bop bop a loo, a wop bam boo."
The octogenarian Penniman smiled mischievously from his wheelchair on stage, blue sequined shoes peeking out from under his graduation gown.
That a black homosexual entertainer would receive an honorary Mercer degree would surely have been difficult for the white Baptist founders of this institution to fathom.
Underwood conferred upon Penniman an honorary degree of Doctor of Humanities, to which he could be heard whispering "thank you."
Reportedly feeling weak, Penniman offered no remarks and skipped out on a planned press availability. His van made a beeline for the S&S Cafeteria on Eisenhower Parkway, a staple of his recent hometown visits.
I got there just as his entourage was wheeling him back out into the parking lot.
'Would you give everybody my love?'
"Mr. Penniman, can I ask you about your honorary degree?" I asked to the visible chagrin of his many bodyguards.
"Yes sir," he responded in a kind tone.
"How do you feel?" I asked, expecting a more ebullient response than what I got.
"I feel good," he said without elaboration.
Penniman said he had heard about the state acquiring his boyhood home. I asked what he remembered about it.
"All I remember is that it was an old house, with a bathroom toilet stool in the hallway," he said. (A toilet stool is a chamber pot set in a chair — evidently the house had no indoor plumbing.)
"I had some good meals there," he continued, "and had a good mama there, my mama she was a good lady. And they're getting ready now to make [the house] for everybody, for the young people."
Penniman then gave me his usual, gracious signal that the interview is over: "Would you give everybody my love?"
Nearly a dozen large black men in large black suits proceeded to form a human wall around Penniman, trying to block the view of him struggling into his coach.
People in the restaurant said he'd been friendly, but asked for no pictures.
Tags: Mercer University, Georgia Department of Transportation, GDOT, historic preservation, Little Richard, Adam Ragusea, Little Richard Penniman, Pleasant Hill, Macon music history
Bottom Content