Section Branding
Header Content
Sequester Hits Georgia Universities
Primary Content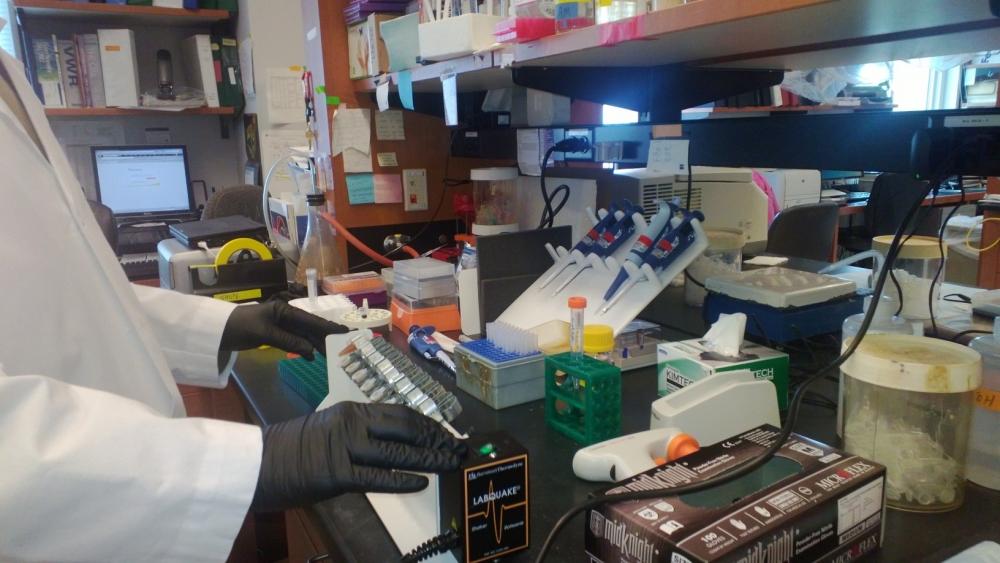 Georgia military bases and contractors are not the only ones feeling the pinch of the sequester. The state's top universities are seeing federal research grants slashed as a result of the across the board federal funding cuts. And that's threatening not only important fields of study, but also high-paying jobs.
On a sunny spring afternoon at Emory University, researchers are buzzing about the Winship Cancer Institute there.
The institute's labs are designed like open library stacks, with row after row of work benches designed to foster collaboration.
Students and researchers are busy preparing samples and peering at specimens under microscopes.
But the swarm of activity belies a grim funding scenario.
Workers in Professor Adam Marcus's lab study cancer cell biology, with an eye toward helping patients beat fatal diagnoses. And he says they're already seeing the impact of the sequester on the federal grant that funds their work.
"Every year we get a notice of award, and that's based upon a review of our progress every year," he said during a tour of his lab. "So we get a notice of award and I recently received mine. And instead of it being for 12 months, it's for six months."
He says it also came with a ten percent cut that researchers across the country are seeing because of the sequester.
And that has a trickle-down effect. With the help of the research grant, he employs ten people.
"You know, this impacts us on several levels," he said. "Graduate students, we have trainees, post-doctoral fellows, we have full-time researchers. They are all supported off this federal money. So we're not just talking about petri dishes here. We're talking about people's jobs.
Georgia's top universities have been preparing for the sequester for months. They hoped politicians in Washington would strike a deal on taxes to avoid the across-the-board spending cuts they had scheduled.
When Pres. Obama and Congress failed to agree in March, making the spending cuts unavoidable, university officials began to carry out their plans.
For Georgia Tech, alone, it means an estimated $40 million loss in federal research grants. That's because the university is expecting an 8 percent cut in defense research and a 5 percent cut for other projects.
Georgia Regents University in Augusta will also feel the pinch.
Mark Hamrick, the university's senior Vice President for Research, says that stems from cuts in grants from the National Institutes of Health. And he worries about Georgia's efforts to boost high paying jobs.
"As the NIH funds decline, the success rate becomes lower and people's funding becomes more precarious, they're less likely to take on a graduate student because it will probably a student four years to finish and get a PhD," he said. "So this impacts workforce development across the state."
Over at Emory's medical school, Ray Dingledine, the research dean, says he's already grappling with the sequester's impact on jobs. The cuts will mean a $17 million deficit between now and September.
"Of that, about $8 million is salaries," he said during an interview at his office. "And so we are scrambling now to figure out ways to minimize the risk to very skilled jobs -- a number of very skilled jobs are at risk."
Emory grad student Scott Wilkinson says he just wants to figure out ways to keep people from dying from cancer.
But he's finding out how important federal funding is to his work. He's taking a grant-writing course so he can get his application for funds just right.
"It's so much more competitive with less dollars around," he said on a break from research. "So we're having to spend a lot of our time learning how to make it as perfect as possible and actually taking away from getting as much science done because we're spending so much time trying to get the political side right."
Wilkinson may have to get the political side right for a long time. Dingledine, the research dean, says he expects more sequester-related cuts in research grants in September.
"I think the most likely option is there will be another 3 percent cut on top of the five percent that NIH has already cut," he said.
Officials at Georgia Tech and Emory say it may take a few years before federal grant funds start to rise. And so they're looking for other institutions – in industry, for example – to pay for the research that lengthens Georgians' lives, provides good jobs and keeps the state's economy humming.
Tags: politics, Georgia Tech, Emory, research, Georgia universities, spending cuts, sequester
Bottom Content