Section Branding
Header Content
Isakson: Deepening Funding 'Very Close'
Primary Content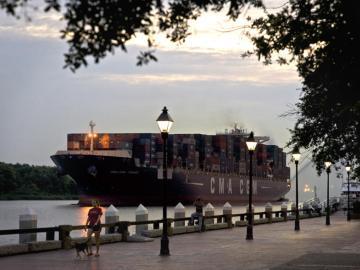 U.S. Senator Johnny Isakson says plans to deepen Savannah's harbor are "very, very close" to getting funding from Washington.
State lawmakers have allocated an additional $50 million for the project as well.
Lawmakers approved the $50 million increase proposed by Governor Nathan Deal and the funding needs only his signature to go into effect.
Combined with previous funds, the state has spent over $200 million on the Savannah Harbor Expansion Project.
Senator Isakson says the federal funding is his top priority.
"I'm having dinner with the President on Wednesday night and when he called me and said the agenda's open I said my first question's gonna be about the Savannah River Harbor and the expansion of the Port of Savannah," says Isakson. "And after that we'll talk about everything else. He said, 'That's fine with me.' "
Isakson was in Savannah Wednesday to update port officials on the progress of funding.
Earlier in the week, he attended the Atlanta Braves opening day with Atlanta Mayor Kasim Reed.
On the prospect of port funding, he was loaded with baseball metaphors.
"I'm here to report things are moving in the right direction," says Isakson. "We're not at home plate but we're rounding third - getting ready to hit a home run and looking for four RBI's to go along with it in the expansion of this great port."
U.S. Army Corps of Engineers officials say the expansion will generate more than $5 in economic benefits for every $1 invested.
The 14-year-old project received the Obama administration's final approval last year.
Tags: Georgia, Atlanta Braves, US Army Corps of Engineers, GPBnews, Port of Savannah, orlando montoya, Rebpublican Senator Johnny Isakson, Atlanta Mayor Kasim Reed, Governor Nathan Deal, John A. Young, President Barak Obama, Savannah Harbor Expansion Project, Georgia Port Authority
Bottom Content