Section Branding
Header Content
Ga. Bald Eagles Doing Well
Primary Content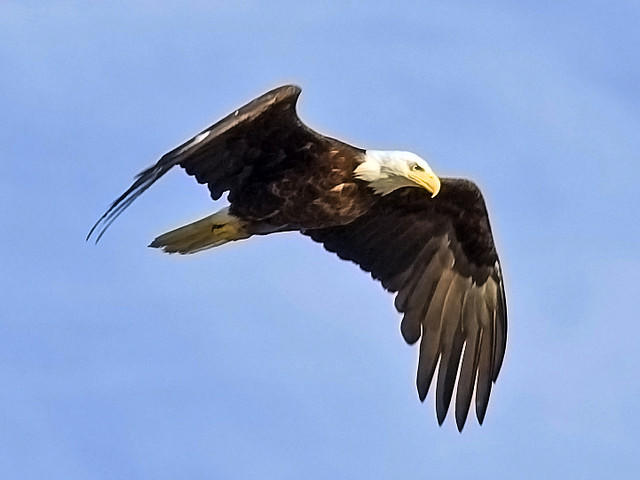 Georgia's bald eagle population is growing, including in some unexpected spots.
Bald eagles were once a rarity, but wildlife biologists are finding more and more of them across Georgia. The state Department of Natural Resources' Jim Ozier said the raptors usually live along the coast where there's lots of water and hammocks for their nests. In fact, state officials have counted a record number of nests around Savannah.
"But, over time, they have been expanding up into middle parts of Georgia and northern parts, even getting away from large bodies of water, which is a little bit of a surprise," Ozier said. "You wouldn't have thought to look for them anywhere except along the major rivers and major reservoirs a few years ago."
Ozier said he's counted 165 bald eagle nesting territories around the state this year. That's up a couple, but he says it probably misses some nests in unexpected places. He is also waiting on a few more reports to finalize the number.
He says the expanding population is due to a good number of births each year and to the eagles' ability to adapt and live in new places.
"Some efforts went in to restore populations early on, but they've done most of it on their own, I would say," Ozier said. "They're able to adapt to living in people's backyards, for instance. That's just something we wouldn't have thought of for an eagle just a few years ago."
Tags: Georgia Department of Natural Resources, bald eagles, Georgia bald eagles, eagle nests, bald eagle nests, jim ozier
Bottom Content