Section Branding
Header Content
Ethics Public Hearing Tuesday
Primary Content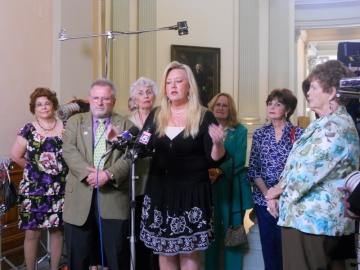 Georgia lawmakers will hold a public hearing Tuesday on a bill aimed at limiting lobbyists' influence at the state Capitol. Some of the bill's critics say it would also curtail citizen participation in politics.
The bill would ban gifts from lobbyists to state lawmakers. It would also restore authority to state's ethics commission, and would require some activists to register as lobbyists.
House Speaker David Ralston, a Blue Ridge Republican, drafted the bill. Over in the state Senate, Joshua McKoon is leading the fight for a gift cap.
The Columbus Republican toured the state last year to hear how Georgians wanted to reform ethics at the state Capitol.
"No one made a complaint that they felt like citizen activists needed to register as lobbyists," he said in an interview. "So there's a great deal of confusion as to why the focal point of the house legislation seems to be on requiring lots of average Georgians to register as lobbyists."
McKoon also says passing a measure with this provision could spur a Constitutional challenge on the grounds of free speech.
Supporters of the House bill say the requirement would apply mainly to activists who are at the Capitol dozens of days each session.
The committee won't vote on the bill at the hearing even though only six days remain in the legislative session. But Tom Crawford of the online political digest the Georgia Report says time isn't the issue.
"There's still plenty of time to get a Senate vote on it," he said. "But whether you can get a compromise worked out between the House and the Senate on the final bill is an open question."
Some critics of the bill also say its exceptions are huge loopholes would allow lawmakers to accept gifts from lobbyists if they're given to a whole committee or other group.
The measure follows up on Georgia voters' bipartisan support of a gift cap on last summer's primary ballot.
Tags: politics, David Ralston, ethics reform, Joshua McKoon, gift cap
Bottom Content