Section Branding
Header Content
Deadly Bat Disease Hits Georgia
Primary Content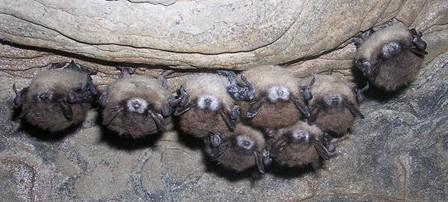 The disease that has killed millions of bats in the eastern U.S. has finally reached Georgia. But there isn't much experts can do to stop white-nose syndrome.
The white-nose fungus is now confirmed in bats in two caves in northwest Georgia. First detected in New York in 2006, the disease has since spread to 22 states and into Canada. White-nose syndrome has killed an estimated 6 million bats and threatens some endangered species.
National Park Service Veterinarian Steven Thomas said on a conference call with reporters Tuesday the disease is not a threat to humans.
"Largely thought because the temperature that the fungus grows at is much colder than the human body. So the fungus can not grow in the human body."he says
The disease is spread from bat to bat so there's no way to contain it.
Trina Morris, a biologist with the Georgia Department of Natural Resources, says they are trying to prevent humans from spreading the fungus to other caves.
She says "The best approach for us is to just try to get more education out there about what people should do to clean their gear. We advise people to reduce their caving trips if they can."
Morris says they can't stop the spread of the disease from bat to bat and they can't keep people who could spread it out of all the state's caves.
"Most of our caves are on private land in Georgia, so we don't have the ability to close those caves. We do have quite a number on state lands in some areas. And closure really isn't something that's an easy option for us. They are often hard to access and hard to patrol." she says.
Morris is asking people not to disturb the bats during hibernation, which is critical to the animals' health.
The fungus kills 90 to 100 percent of the bats infected.
Bats eat their body weight in insects every day, according to Dr. Jeremy Coleman with the U.S. Fish and Wildlife Service. He says many of those insects are agricultural pests.
He says "Many have suggested that the lack of ecological services that bats provide will require additional pesticides to be used for agriculture or even forest related products."
For more information on white-nose syndrome, go to whitenosesyndrome.org
Tags: bats, fungus, white-nose synodrome
Bottom Content