Section Branding
Header Content
Charleston Conference Talks Cruise Ships
Primary Content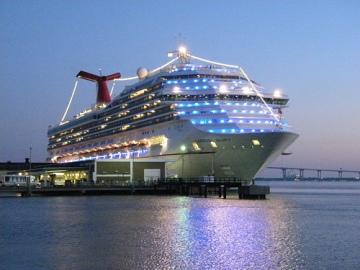 Historic preservationists and representatives of the cruise industry are meeting in Charleston this week.
They're talking about a topic that's heating up in tourism-dependent Historic Savannah.
The International Symposium on Cruise Ships in Historic Ports is examining a quandary faced by cities from Mobile, Alabama to Venice, Italy.
Participants will examine how historic cities can balance the economic benefits of the industry with impacts such as congestion and pollution.
The New York City based World Monuments Fund is sponsoring the gathering. The organization's Erica Avrami says the goal is to develop "best practices" that can be shared worldwide.
"I think the real tension is finding a way to make cruise tourism in these often very fragile locations more sustainable and ensuring that the benefits that are derived from that new industry are making it to the local population," Avrami says. "It has to do with everything from land use to the size of businesses and how much infrastructure a community can create that doesn't begin to detract from their heritage resources which are fundamentally the reason why the tourists want to come there in the first place."
Savannah officials want to get the city in on the potential for multi-million-dollar profits from the cruise industry.
But some residents worry that the business could overwhelm the Historic District and polarize the community.
Tags: Savannah, South Carolina, historic preservation, Charleston, cruise ships, GPBnews, orlando montoya, World Monuments Fund, Erica Avrami
Bottom Content