Section Branding
Header Content
Lobbyists Say They're Advocates
Primary Content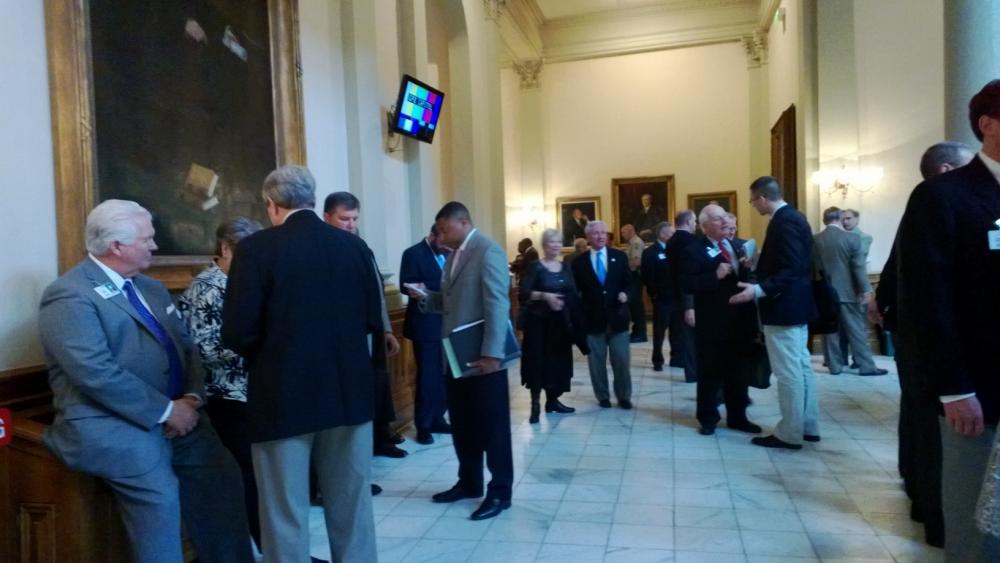 Some Georgia lobbyists say the gift ban bill proposed by the state House speaker unfairly paints their profession with a broad brush. On the heels of David Ralston filing the ethics reform bill Tuesday, many lobbyists are fighting back against the perception they're up to no good at the Capitol. They say they're merely trying to educate lawmakers about important issues they may not know much about.
The bill would curtail the practice of lobbyists lavishing dinners and sport tickets on lawmakers. It would also expand the definition of lobbyist.
But lobbyists say sharing a meal with a legislator gives them a chance to talk about a specific issue or bill without interruption.
They say lawmakers are often too busy while at the Capitol for long discussions.
David Tatum is a lobbyist for Children's Healthcare of Atlanta. Speaking outside of the House chamber, he says lawmakers need help understanding issues.
"Unlike members of Congress, most members of the General Assembly do not have an extensive staff," he said, while on a break from talking to lawmakers. "They may have one or two people, if they have anyone. So they depend on the people that are in the hallways here that become content experts on particular issues."
Tatum says he's lobbying lawmakers this session about a bill involving the so-called bed tax. It's a fee that reimburses hospitals for Medicaid. He was busy Wednesday working the halls of the Capitol because the bill could come to the floor of the House as early as Friday.
Polly McKinney is a lobbyist for Voices For Georgia's Children, which advocates for children's healthcare and other matters. She says lawmakers are busy when they're in Atlanta.
"Sometimes the only chance you get to talk to someone -- because they don't necessarily get to eat -- is they'll say, 'I have to go see this constituent group but I have an hour. Do you want to have a burger?' And that's where you get to talk to them," she said.
McKinney says one issue she's lobbied lawmakers about is the importance of pre-kindergarten for children's development. She says every year her group arranges for visits to pre-k classes in members' districts. She says those visits include small favors such as cupcakes.
Other lobbyists say the bill takes aim at a couple of bad apples and that most of them are honest advocates for their causes. And they say annual gatherings with lawmakers -- sometimes called junkets -- are opportunities to build relationships and share information.
The legislation follows Georgia voters' voicing overwhelming support for a gift cap referendum on last summer's primary ballot.
Ethics reform backers, however, caution that the bill contains loopholes that could undermine the gift ban. And they say it may limit some interest groups from talking to lawmakers about their issues.
Tags: politics, David Ralston, lobbyists, gift cap, gift ban
Bottom Content