Section Branding
Header Content
Plant Vogtle Construction Costs Rising
Primary Content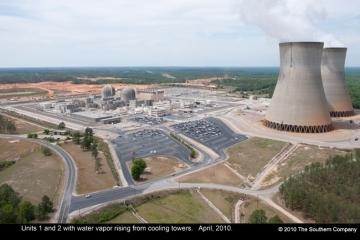 Cost overruns and safety concerns at Georgia's nuclear expansion project were the topic Tuesday at Georgia's Public Service Commission.
An independent auditor told utility regulators Plant Vogtle construction will be delayed at least 15 months and go millions of dollars over budget.
Nuclear engineer William Jacobs said poor construction material, contractor mistakes and oversight delays will mean the Unit 3 reactor won't be ready until July of 2017.
That's 15 months later than planned.
He says the Unit 3 delay will cost $88 million dollars, an amount that could grow to into the hundreds of millions. That will also delay construction on Unit 4. Ratepayers would be on the hook for the costs. But Jacobs did not recommend pulling the plug when asked by Commissioner Doug Everett.
"Which would you think would be best for the ratepayers of Georgia, stop it now or continue with it? asked Everettt.
Jacobs replied, " At this point, continue with the project. "
A number of people spoke against the project. Betsy Miklethun of Atlanta says
"I'm on a fixed income and I resent the fact that you' re asking me to pay part of the bill for this when I may not even live to the point where the thing is functional or operational. "
Ratepayers like Miklethun are already paying for current construction costs in their monthly bills. Commission Chair Tim Echols points out that despite the construction delays, Georgia Power has not asked to increase customer rates again.
"In the long run we will be very glad we built this plant when natural gas prices go up in 15 or 20 or 30 years. And all these other states have all their eggs in this natural gas basket. And then Georgia has these reactors sitting there producing low cost energy."he says.
Georgia Power customer Barbara Antonopolos from Atlanta told the PSC she's concerned with the poor construction.
"And then to hire incompetent contractors to build them. Having Georgia Power repeatedly assure us of their commitment to safety and quality is a joke. They along with everyone else in this project are in way over their heads." she says.
Jacobs says despite construction problems, the new reactors are safe.
Georgia Power is suing its subcontractors for the cost of faulty work. Echols says he hopes those contractors will be forced by the courts to pay the cost overruns, letting consumers off the hook.
The PSC took no action during the hearing. They will meet again in January to discuss Plant Vogtle's costs.
Tags: Public Service Commission, nuclear reactors, Plant Vogtle, safety, William Jacobs, costs
Bottom Content