Section Branding
Header Content
Rock Marathon Adds Three Years
Primary Content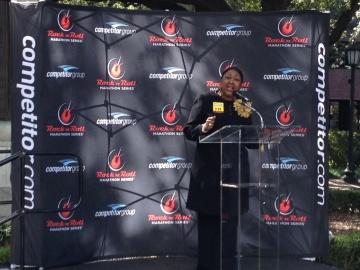 The Rock 'n Roll Marathon is extending its stay in Savannah for three more years.
The decision Wednesday by the event's private organizers means an economic windfall for the tourism-dependent city.
The San Diego-based Competitor Group puts on the marathons in cities nationwide.
Last month, 17,000 runners participated in the second Savannah Rock marathon and half-marathon, filling hotel rooms and restaurants.
Now the group is extending its contract with Savannah into 2016.
Downtown Business Association President Ruel Joyner says the run is becoming a signature event.
"When we bring an event to Savannah, the community gets behind it," Joyner says. "With the Chamber of Commerce and Visit Savannah they work really hard to get these people here to have a class event for everyone that comes to Savannah."
Runners brought $31 million into the city for the inaugural run here in 2011.
"We had a lot of people that came into town that probably would not have been here because of the Rock 'n' Roll Marathon," Joyner says. "Overall we had a great year from it."
The event combines running with outdoor concerts.
Tags: tourism, associated press, GPBnews, Rock 'n' Roll Marathon
Bottom Content