Section Branding
Header Content
Beware of Flooded Cars
Primary Content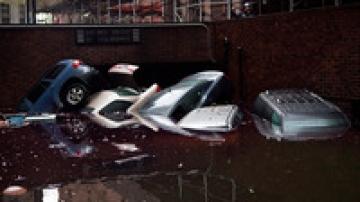 Consumers buying used cars need to beware. Georgia officials are afraid vehicles damaged by Hurricane Sandy may be headed to market.
Cars that were flooded in Hurricane Sandy may have been written off as salvage or totaled by insurance companies in other states. But that may not show up on their titles.
With new or shampooed upholstery and carpeting, and minor body work, flood damage may be easily concealed.
But the Governor's Office of Consumer Protection says electrical problems are practically guaranteed on those vehicles. And the brakes, airbags and computer system may have been seriously compromised. Office administrator John Sours says before you buy, check places where it's hard to clean a car.
"That would include everywhere under the undercarriage. All the little recesses in the engine compartment. Look around the trunk, pick up the mats and look underneath. Look in the spare tire well, if there is one, and the wheel wells."he says.
He also says check for musty odors, or the smell of bleach. Check for premature rusting, or water marks on the upholstery. And Sours says you need to have any used car you are considering buying checked by a mechanic.
Also, check the Vehicle Identification Number with the National Motor Vehicle Title information system. That is the only database where all auto insurers, salvage pools that auction off totaled cars, junkyards, recyclers and self-insured entities such as rental car companies in all 50 states are required by law to report total loss vehicles within 30 days. The cost for a report ranges from $3 to $13.
Sours says he expects some flood cars will show up in Georgia between now and the spring.
"We haven't yet had any complaints about it. I hope that anyone who is victimized by this will let us know. Because it could well be that selling an automobile under these circumstances, depending upon what is said about it, could violate our fair business practices act." he says.
Tags: flooded cars, Governor's Office of Consumer Protection, vehicle identification number
Bottom Content