Section Branding
Header Content
Profile of Candidate Jody Cooley
Primary Content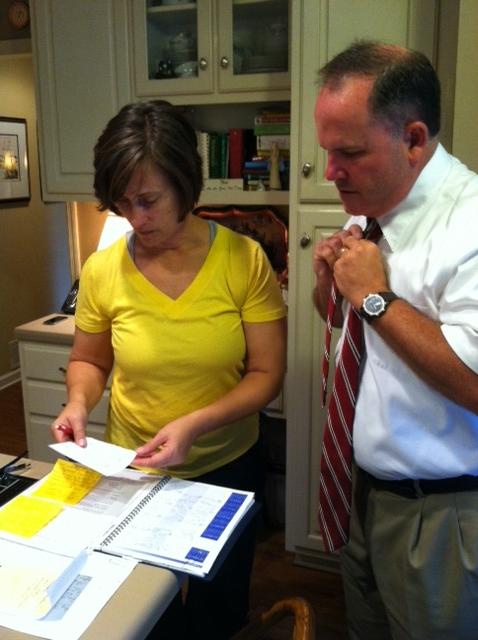 Democrat Jody Cooley is running for Congress in Georgia's new 9th district. According to the Cook Political report, it's the most conservative district in the country.
"Who's that Cooley fellow running for Congress, he's claiming Common sense!"
That's the radio jingle from Jody Cooley's campaign. He calls himself the "common sense candidate."
"Let's vote for Cooley."
Cooley says he's focused his campaign on 'kitchen table issues' that matter to people and how they live, like a job program that works. And the kitchen table is where the Cooleys begin their day with what they call a family devotion. Jody joins his wife, Laura, and his daughter Lila Kate, home for the weekend from Georgia Tech.
Cooley prays, "Dear God of compassion, when sorrows threaten to overwhelm us, remind us that you are always near and lord be with us as we go about our daily lives, Amen."
The campaign has been a family affair. Laura, a pre-school Special Ed teacher is also his campaign manager. She says, "Sometimes it gets a little uncomfortable with how much I brag on him, but it's true."
His daughter, Lila Kate says, "Mom is the electric drill and Dad is the screwdriver. Mom goes and goes and goes and Dad is more the slow burn.
Cooley is running against Republican Representative Doug Collins, also an attorney and a three-term Gold Dome veteran. Collins has said that he is the conservative choice for a district where values and economics are priorities. Georgia gained the new congressional district after the 2010 census revealed a population surge in North Georgia. It packs in more Republican voters than any other in the state. Washington think tank FairVote gives Republicans a 79-to-21 percent advantage there.
Cooley says, "We're huge underdogs in this race, so that presents a lot of challenges, but that's one reason I decided to run."
While Cooley has been ramping up his campaign, he's also kept his day job, as an attorney with the Gainesville law firm, Hulsey, Oliver and Mahar. He's worked there for 26 years—the first and only place he's ever practiced law. Cooley's secretary Angela Halsteat has pictures of George W. Bush and Ronald Reagan on her desk. She says, "I'm still on the fence but yet, I know he's a good honest man and he will tell the truth…and I think his convictions are very deep as mine are."
The Cooley campaign has relied solely on volunteers, like Billy Williamson, a retired General Motors employee from Buford:
"I just like what he says and I believe he's true blue. I hope he stays that way!"
Juggling family life, his legal career and a busy campaign, Cooley ends his day with a debate. He and Doug Collins tackle issues like the economy and healthcare in front of the Big Canoe community. The candidate's views diverge when it comes to money.
Cooley says, "The first thing we need to do is reach an agreement on budget."
Collins favors a fair tax system and less government:
"What I look at from my perspective is taking the same consistent message, the Conservative message we've carried for the past year. That is a government that is smaller, that is leaner, a government where spending is cut."
The tone of the debate stays amicable— both of these Gainesville lawyers call each other friends. And as for early predictions for District 9, Jody Cooley's got one:
"I have a prediction, President Obama is not going to carry the 9th District!"
And his daughter Lila Kate says it's all going to be worth it:
"It's a fun thing, we were talking yesterday, my sister was here for lunch, and we were talking about how if nothing else, we can look back and say, 'remember when we ran for congress.'"
Tags: Doug Collins, parker wallace, Jody Cooley, congressional district 9
Bottom Content