Section Branding
Header Content
Celebrity Joins Ogeechee Fight
Primary Content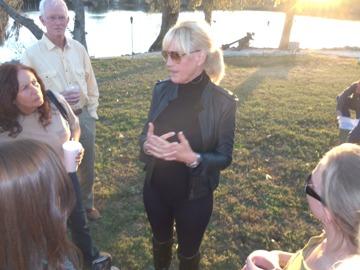 California environmental activist Erin Brockovich is lending her name and some of her resources to the Ogeechee Riverkeeper.
The consumer advocate was in Georgia last week to launch an investigation into the river's health.
Brockovich became a household name in 2000 when Julia Roberts played her in a film depicting her fight against pollution in a California town.
Now she consults with communities nationwide and is coming to the Ogeechee Riverkeeper's side.
Brockovich says her visit last week wasn't just a photo opportunity but the first of several trips to test the water and figure out what's happening in the river.
"That's the first thing that'll be on our job description come Monday morning," Brockovich says. "We'll get it to them, see what we can do to get them what they need so we can go out and test as well so we don't rely on one-sided information."
About 38,000 fish died in the river last year -- all downstream of a Screven county textile mill that discharged waste for years without a permit.
"Nobody's trying to tell you to go away," Brockovich says of the mill, King America Finishing. "You're choosing to do something you shouldn't be that is deceiving and hurtful to the environmental and people. We're asking you to do the right thing: disclose, work with the state, get us answers and clean up your mess."
King America denies its activities are having an affect on the river's water quality.
Part of her visit focused on raising funds for lawsuits aimed at stopping the discharges.
Tags: Savannah, Chatham County, Screven County, Ogeechee River, GPBnews, orlando montoya, Textile Plant, Ogeechee River Basin, Ogeechee Riverkeeper, Ogeechee Fish Kill, King America Finishing Plant, King America Finishing Company, Ogeechee, King America Finishing, King America, erin brockovich
Bottom Content