Section Branding
Header Content
Friday Recaps: St. Pius Edges BT; Lovett Beats Westminster
Primary Content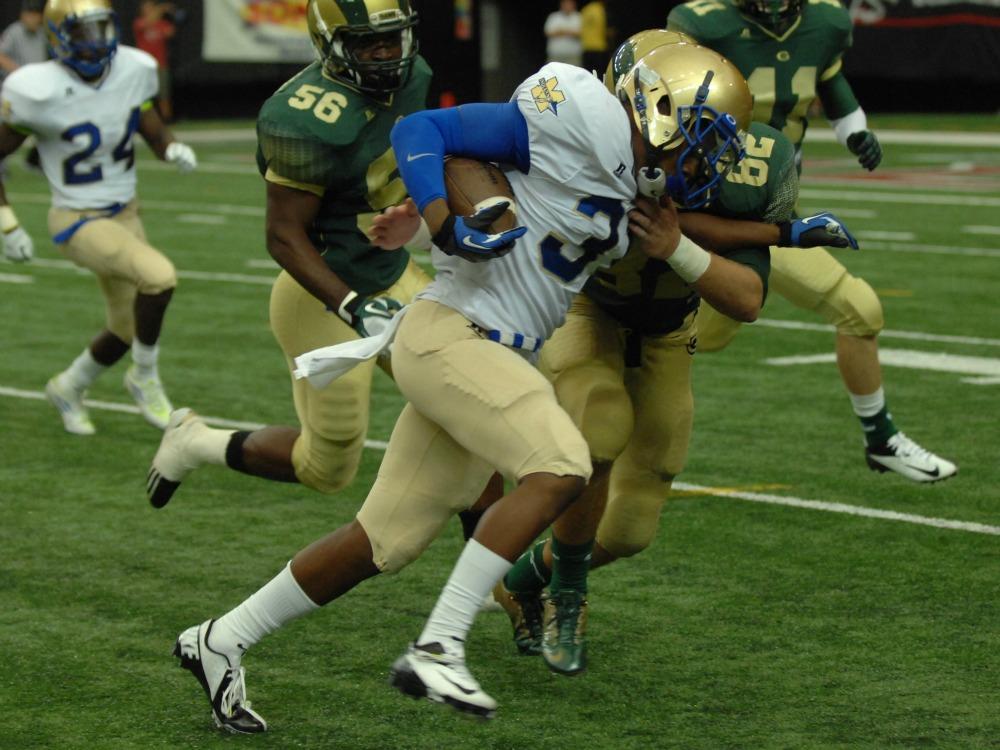 In a big night of football around the state, St. Pius earned a big win in Region 6-AAA while Lovett outlasted Buckhead rival Westminster 10-7. See below for these recaps and more.
Class AAAAAA
Alpharetta 41, Centennial 23: It was a shootout between quarterbacks as Alpharetta's Joshua Dobbs threw four touchdown passes in the Raiders' fifth straight win. Centennial's Chase Rosenberg was able to get the Knights within 11 on two long touchdown throws in the third quarter, but Dobbs hit his fourth on an 81-yarder to Blake Rowlinson late in the third. The Knights lost for the first time in four games.
Central Gwinnett 37, Dacula 20: Visiting Central Gwinnett held 15-14 lead at the half until pulling away in the second half. Eman Westmoreland threw for 297 yards and four touchdowns to lead Central Gwinnett. Justin Brownlee had eight receptions for 160 yards, two scores and also added an 18-yard touchdown run. Nate Hartford carried the ball three times for 51 yards and two touchdowns.
Chattahoochee 48, Lambert 14: Travis Marshall threw for 277 yards, including a 77-yard touchdown pass to Avery Ward, and ran for a 6-yard touchdown. C.J. Leggett had scoring runs of three and five yards, and Chase Nelson found the end zone on runs of four and 21 yards. Justin Jackson had a 92-yard fumble return for a touchdown for host Chattahoochee.
Collins Hill 40, Duluth 0: Tyler Herman was 15-of-22 passing for visiting Collins Hill with touchdown throws to C.J. Davis and Gary Richardson. Thomas Harris had 147 yards rushing on 28 carries, and R.J. Burnette and Tyler Henderson had rushing scores. Cornerback Quinton Jones had an interception return for a touchdown and an interception. Collins Hill converted two 2-point conversions and Mitchell Blanchard added a 35-yard field goal.
East Coweta 38, Douglas County 33: Visiting East Coweta held on after building a 31-13 lead at halftime. Douglas County worked its way to the 11-yard line of East Coweta before a tackle-for-loss allowed time to run out on the final drive. Demarcus Godfrey rushed for 103 yards and three touchdowns, including East Coweta's final score in the third quarter. Bryce Gemmel was 14-of-21 passing with two touchdowns for East Coweta.
Johns Creek 34, North Forsyth 7: Chase Solomon had rushing touchdowns of 55 and 30 yards as Johns Creek routed host North Forsyth. Quarterbacks Jack Deweese and John Grayson accounted for a touchdown each, as Deweese had a 4-yard run and Grayson threw a 40-yard scoring pass to Andrew Szambelan. Kyle Fowler made field goals of 49 and 47 yards.
Langston Hughes 17, Tri-Cities 13: Kenny Moxey passed for 255 yards and a touchdown to help lead visiting Langston Hughes past Tri-Cities and clinch the Region 3-AAAAAA championship. Keion Davis added 122 yards on the group and Keyshaun Clark added a 6-yard rushing score. Hughes improved to 8-1 on the season, while Tri-Cities fell to 3-6.
McEachern 61, Harrison 21: Host McEachern utilized a strong rushing attack, led by Ty Clemons' two touchdown runs of 67 and 73 yards and two touchdown passes, to dominate Harrison. Ty Griffin and Ryan Sherman also contributed with two rushing scores to help improve McEachern's record to 7-2 on the season, while dropping Harrison to 4-5.
Mill Creek 49, Habersham Central 0: Jacorey Lewis rushed nine times for 155 yards and touchdowns of 43 and 56 yards in host Mill Creek's blowout win. Of his five completions, three Daniel David passes went to Michael Cheeks for touchdowns of 36, 41 and 78 yards. Devozea Felton (56 yards) and Jordan Sylvain (46 yards) also added rushing touchdowns.
Milton 49, Cherokee 7: Running back Peyton Barber led the way for visiting Milton with 11 carries for 125 yards and three touchdowns, one from 54 yards out. Treyvon Paulk added 85 yards rushing and two touchdowns, and quarterback A.J. Bush had a rushing score of nine yards. Milton returned two interceptions for touchdowns in the fourth quarter.
North Cobb 45, Marietta 32: Quarterback Tyler Queen threw touchdown passes to Cameron Albright and Xavier Borishade, and rushed for a score for visiting North Cobb. North Cobb picked up two touchdowns on defense, getting a fumble return from Eghosa Agbonghae and an interception return from Hakeem Sawyer. J'Vonte Herrod added a 4-yard touchdown run.
Parkview 38, Berkmar 7: Parkview hosted Berkmar and survived an early 7-0 deficit, but pulled away in the second half. Justis Rosser rushed for more than 100 yards and scored touchdowns from 16 yards and 14 yards. Mac Marshall added touchdowns to Demonte Dawson for 41 yards and Keanu Mole for 31 yards. Richard Walker also scored on a 14-yard run.
Walton 21, Etowah 16: D.J. Smith had a touchdown catch and two touchdown runs against visiting Etowah. Smith, who amassed 109 receiving yards and 88 rushing yards, stepped in after Alabama commit Tyren Jones left the game in the second quarter with an injury. Walton quarterback Price Wilson was 13-for-18 for 152 yards. Walton's defense benefited from three Etowah fumbles and an interception.
Wheeler 31, Woodstock 9: Wheeler's Kyonte Maxwell and Jacobi Green rushed for touchdown runs of six and five yards, respectively, against visiting Woodstock. Quarterback Elijah Staley threw a 13-yard touchdown pass to Devontae Jackson, and Jevan Sampler had a 21-yard interception return for touchdown. J.D. Barron added two field goals for Wheeler.
Class AAAAA
Allatoona 56, North Paulding 21: Visiting Allatoona ran its way past North Paulding. Josh Bautista had 28 carries for 344 yards and two scores. T.J. Herron added three touchdowns on 16 carries for 123 yards. Quarterback Jeremy Uzee threw for 174 yards and a touchdown while also scoring two touchdowns with his legs.
Kell 31, Pope 3: Host Kell scored the game's first 17 points in a battle of East Cobb rivals. Quarterback Matthew McGuigan was nearly perfect, connecting on 15 of 22 passes for 225 yards and a 35-yard touchdown pass to Brandon Langley. Langley also scored on a 9-yard run. Khalil Bell and Jamari Moore also ran for Kell touchdowns.
Mt. Zion-Jonesboro 31, Forest Park 17: Visiting Forest Park held the game close in the first half with a halftime score of 13-7. Mt. Zion-Jonesboro pulled away in the second half with 2 touchdowns from Montell Buchanan. Chris Hudley added 2 touchdowns, one receiving and one on a punt return. Deon Dawson also rushed for a score.
North Atlanta 19, Lakeside-DeKalb 14: North Atlanta picked up its first win of the season in thrilling fashion. Lakeside-DeKalb, which got 118 rushing yards and two touchdowns from Brad Earnest, took the lead with just over one minute remaining. Visiting North Atlanta responded with a game-winning touchdown pass from Joey Calcagno to Kwame Garcia. Fernando Carr added a touchdown for the victors.
Northview 40, Forsyth Central 33: Terrence Upshaw rushed for 152 yards and five touchdowns to lead visiting Northview past Forsyth Central in a game that was defined by strong offensive performances. Michael Branigan rushed for 136 yards and four touchdowns for Forsyth Central in the losing effort. D.J. Pearson passed for 246 yards and a touchdown for Northview.
Sequoyah 42, Cambridge 0: After giving up 48 points to Northview in a shootout win last week, Sequoyah picked up the pace on defense and posted its first shutout of the season. Sequoyah got 235 rushing yards and four total touchdowns (three rushing, one receiving) from Blake Ingleton. Dustin Dawson added a touchdown on the ground while quarterback Trent Dorner tossed the scoring strike to Ingleton.
Sprayberry 23, Osborne 17: Sprayberry scored 17 unanswered points en route to a 23-10 lead before holding on against Osborne. The victorious Yellow Jackets benefited from two touchdowns from quarterback Shane Young and a kickoff return for a score from Myles Wallace. Rodrigo Blankenship capped off the scoring for visiting Sprayberry with a 47-yard field goal.
Whitewater 42, Starr's Mill 0: Visiting Whitewater used a 35-0 halftime lead to run away from Starr's Mill. Kendall Conley and Christian Wafford each had two touchdowns on the ground to lead Whitewater. Jay Ashley threw a 42-yard touchdown pass to Trevor Morgan who had 70 yards on three receptions.
Class AAAA
Lithonia 8, Redan 6: Frank Turner threw a 15-yard touchdown pass to Micah Stewart in the third quarter for host Lithonia's only touchdown. On the 2-point conversion, Clark Jones Jr. ran it in to take an 8-0 lead. Redan threatened to tie in the fourth quarter with a 2-point try of its own, but defensive end David Johnson, a South Carolina commit who also had two sacks, made a tackle for loss to preserve the lead.
Marist 24, Chamblee 0: Visiting Marist controlled the pace of the game against previously unbeaten Chamblee, led by a 19-yard score from Griffin King. Marist also got touchdowns from Patrick Anhut, on a 15-yard pass from Myles Willis, and Steven Wallace on a 2-yard run. With the win, Marist takes over sole possession of first place in Region 6-AAAA from Chamblee.
Stockbridge 35, Locust Grove 0: Stockbridge jumped out to a 21-0 lead in the first quarter and coasted from there to defeat Locust Grove. Trenton Earl rushed for two touchdowns, Malik Bryant added one on the ground and receiver Maetron Thomas took an end-around 70 yards for another score. Host Stockbridge also got a fumble return for a touchdown by Robert Beecham.
Class AAA
Buford 49, East Hall 6: Host East Hall managed just 171 total yards of offense in the loss. Zavior Hoxie rushed for a 1-yard touchdown and caught a 26-yard score from Montgomery VanGorder. Quinn Davis led Buford's ground attack with two rushing touchdowns. The visitors also scored on defense when Donte Gordon recovered an East Hall fumble in the end zone.
Cedar Grove 47, Woodward Academy 14: Johnathon McCrary threw three touchdowns and rushed for two more to lead Cedar Grove past Woodward. McCrary scored each of the victors' first two touchdowns on the ground before a Daletavius McGhee 74-yard fumble return made it 20-7. Deion Sellers had a receiving touchdown and an 81-yard rushing score for host Cedar Grove.
Jackson-Atlanta 22, Haralson County 20: Jackson quarterback Shadricus Ferguson rushed 15 times for 170 yards and two scores and also threw for a touchdown. Host Jackson totaled 275 total yards, including 204 on the ground. Quintavious Monday clinched the victory with an interception of a Haralson County pass on the Jackson 10-yard line with less than five seconds to play.
St. Pius 24, Blessed Trinity 17: St. Pius used a potent ground attack to get past Blessed Trinity in a Region 6-AAA thriller. For visiting Blessed Trinity, Spencer McManes racked up 73 of his 96 total passing yards on one scoring strike to C.J. Brazil. McManes added a touchdown run and the visitors took a 17-16 lead going into the fourth quarter on a Marc Nolan field goal.
St. Pius recorded 323 total rushing yards, 105 from Branden Mitchell and 104 from Ryan Braswell, and no passing yards. The Golden Lions scored the game-winner, a Braswell 1-yard plunge, at the end of a 12-play, 96-yard drive.
Class AA
Greater Atlanta Christian 42, Wesleyan 14: Quarterback Rafe Chapple led host Greater Atlanta Christian with his arm and his legs. Chapple threw a pair of touchdown passes, one each to Chris Williams and Peter Whiteneck. Chapple also ran for a pair of scores. Touchdown runs by Micah Abernathy and Corey Stevenson rounded out the scoring for Greater Atlanta Christian.
Lovett 10, Westminster 7: Visiting Lovett held Westminster to just 122 total yards. Willie Candler threw for 177 yards, including the game-winning 30-yard touchdown pass to Andrew Siegel in the fourth period. Also for Lovett, kicker Brendan McGowan nailed a 34-yrd field goal at the end of the first half. Westminster scored its only points on a 1-yard run by Cameron Seward in the first quarter.
Class A
Eagle's Landing Christian 55, Pace Academy 0: Quarterback Dalton Etheridge went down early forcing Eagle's Landing Christian to run the ball exclusively in its victory over host Pace Academy. Eagle's Landing Christian rushed 44 times for 491 yards. Keyante Green led the way with 210 yards and three touchdowns. Bryson Durden and Davis Reynolds both returned Pace Academy interceptions for touchdowns.
Landmark Christian 36, Holy Innocents' 3: Running back Jeremiah Kirkland continued his stellar season with 274 yards and three touchdowns rushing for visiting Landmark Christian. Quarterback Stockton McGuire completed seven of 14 passes for 87 yards and a touchdown to keep Landmark Christian undefeated in region play.
Mt. Pisgah 55, Fellowship Christian 0: Visiting Mt. Pisgah coasted to an easy win by dominating on both sides of the ball. Quarterback Aaron Winchester ran for 83 yards and two touchdowns. Winchester added a 20-yard scoring strike to Oz Dixon. Austin Harper and Rondy Brownlee each added a pair of rushing touchdowns for Mt. Pisgah.
Walker 20, Mt. Paran 3: Visiting Walker improved to a program best 9-0 behind a strong rushing attack. Bradley Moore, Evan Kasian and Cameron Bloebaum all ran for touchdowns. Patrick McPherson led all Walker runners with 70 yards. The Walker defense held Mt. Paran scoreless through the first three quarters and just 134 total yards.
Whitefield Academy 21, King's Ridge 10: Host Whitefield Academy overcame nine penalties in the victory. Richard Sherrell led Whitefield Academy with 111 yards rushing and two touchdowns. Everett Pollard added 68 yards and touchdown. Whitefield Academy outgained King's Ridge in total yards 221-215. Connor Burns threw a touchdown pass and kicked a field goal for King's Ridge.
Tags: football, GHSA
Bottom Content