Section Branding
Header Content
Dems Want Crawford Off Ballot
Primary Content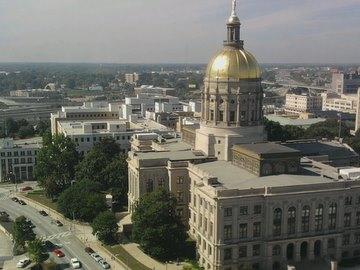 Georgia Democrats want Rep. Rick Crawford removed from the ballot as their party's nominee. But it's doubtful they'll succeed in striking his name from the ballot and finding a replacement candidate.
The move comes after Crawford announced that he will become a Republican if he wins re-election in November.
The Democrats say Crawford should be disqualified because he's declared himself as Republican and hence is no longer the party's candidate.
At a press conference Monday, party Chairman Mike Berlon says Georgia law prevents Democrats from replacing a candidate at this point if he or she withdraws.
But he says, "In this case, our position as the Democratic Party is that Crawford has not withdrawn. He's been disqualified. And there's a legal difference between the two. We think based on the disqualification and the fact that we have taken away his ability to be the nominee of the party, we should have the right to replace him on the ballot."
Crawford has represented Cedartown since 2007. He replaced Democratic Rep. Bill Cummings of Rockmart.
He faces a challenge from Republican candidate Trey Kelley, who chaired GOP Gov. Nathan Deal's campaign in Polk County.
Crawford narrowly survived a 2010 election against a GOP candidate. He told the Rome News-Tribune that he left the Democratic Party after members endorsed gay marriage. He said the party no longer represented his views on abortion and gun ownership.
Secretary of State Brian Kemp says he's reviewing the request and state election law. But he says he doesn't think he can remove Crawford from the ballot based solely on statements he's made about party affiliation.
University of Georgia political science professor Charles Bullock says the move is unusual. Other Georgia politicians have switched parties but typically after an election, not before.
He also says Crawford's decision is puzzling.
"The Democrats are not going to vote for him," he said. "They may simply ignore this contest if his name appears on the ballot. And Republicans have already nominated someone else. So it looks to me that Rick may be a man without a country."
Tags: Democrat, Republicans, Georgia Democratic Party, party switching, Rick Crawford
Bottom Content