Section Branding
Header Content
Braves Clinch Playoff Berth
Primary Content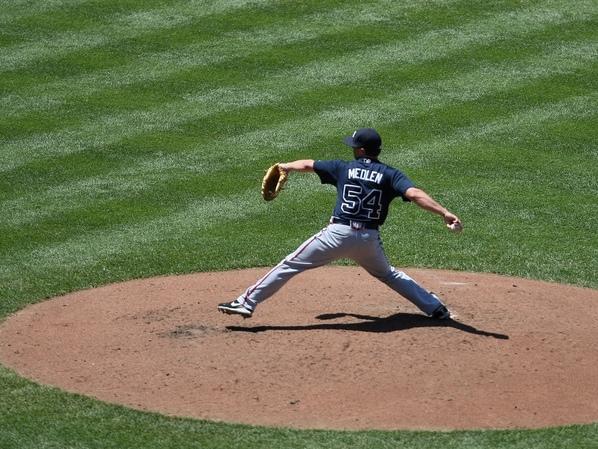 The Atlanta Braves started a six-game home-stand Tuesday night, and by the end of game one, they clinched a playoff berth for the second time since 2005.
A walk-off two-run homer from Freddie Freeman -- set up by a Chipper Jones double to open the ninth inning -- gave the Braves the 4-3 win over the Miami Marlins Tuesday.
A September collapse left the Braves outside looking in last year.
But this year, the only question is whether Atlanta gets to skip the new one-game wildcard playoff and go right to the division series. To do that, they have to win the National League East, where they're currently four games behind the Washington Nationals.
"They're saying what they need to say, which is that they're still going for the division title. I mean, they're not going to concede that," said David O'Brien, Braves writer for the Atlanta Journal-Constitution. "But they would have to obviously have the Nationals help them a lot by playing the worst ball that the Nationals have played in quite some time between now and the end of the season."
Right now, the Braves and the St. Louis Cardinals would meet in the win-or-go-home wildcard playoff at Turner Field. The winner would go on to face the Nationals in the division series.
O'Brien said the Braves' strong pitching could position them for a run deep into the playoffs – and maybe to the World Series.
"You like their chances with [Kris] Medlen and [Mike] Minor and [Tim] Hudson. Hudson [is] a big-game, veteran guy who's been there a lot," O'Brien said. "You know, series usually come down to having two or three real good starting pitchers on a roll. And if Hudson pitches the way he did against the Nationals the other day, then the Braves have three guys on a roll."
Medlen started Tuesday against the Marlins, winning his 22nd consecutive start and tying a Major League record.
The Braves' season ends with nine consecutive games against the Marlins, Mets and Pirates.
Tags: Atlanta Braves, baseball, major league baseball, playoffs, wild card, Braves, Tim Hudson, Kris Medlen, Mike Minor
Bottom Content