Section Branding
Header Content
New Plan Capitalizes On Whitewater Run
Primary Content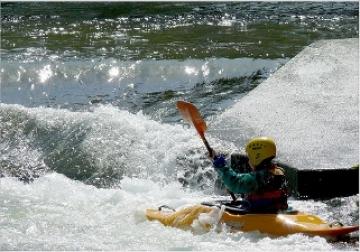 Columbus city leaders Wednesday unveiled a strategic master plan to capitalize on the tourists expected to come to the city's new whitewater facility. Organizers are hoping the area's strong public-private partnerships will take economic development to the next level.
The 14-million dollar Whitewater Columbus facility is expected to draw nearly 200-thousand visitors each year. A contracted consulting firm recommends the community develop areas on the up side of the Chattahoochee River where visitors can view the whitewater run.
The goal is to make the riverfront a destination, with more bike paths and walkways as well as interactive fountains. Some suggestions for private development include a zipline, rock wall and vendor kiosks.
Douglas Smith, president of the consulting firm EDSA, recommends public-private partnerships to develop plazas along the river where people can view the whitewater run.
"Like interactive fountains, or feature fountains, art elements. We could do memorial garden-type spaces. There'll be open lawn activity areas. There will be more heavily landscaped areas.
There will be a whole series of pathways, ramps and steps to navigate some of this terrain down to the riverfront. But the idea is really to draw people down to the river."
They also recommend capitalizing on Columbus State University's expansion of downtown art programs.
Smith says "We are making recommendations about things like potentially a culinary arts facility, a children's museum, a contemporary arts sort of interactive facility."
The whitewater facility is currently under construction and is expected to be completed in about a year.
Smith says the next step is up to the community to figure out how they can take advantage of the huge draw of Whitewater Columbus.
Tags: riverfront, Whitewater Columbus, downtown strategic plan, EDSA, plazas
Bottom Content