Section Branding
Header Content
Soldier's Testimony Key Against Militia
Primary Content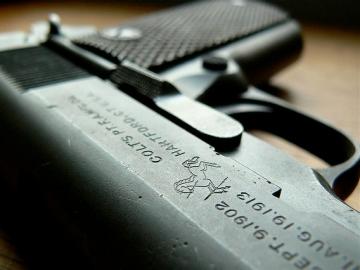 A law professor at the University of Georgia says this week's indictments of four former Fort Stewart soldiers and another man strengthens the case against a so-called anti government militia. But one soldier's testimony will be key to the prosecution.
Five more men have been indicted, accused of break-ins and auto thefts to fund an anti-government militia. Four Fort Stewart soldiers have already been charged in the plot.
Prosecutors say the soldiers planned to kill the President, take over Fort Stewart, and poison apple crops in Washington State. Four are accused of killing a former soldier and his girlfriend to cover up the plot.
Private First class Michael Burnett has pleaded guilty to murder and gang activity and agreed to testify.
UGA law professor Ronald Carlson says that strengthens the prosecution.
He says " His testimony in my view will be critical. He is purportedly one of the insiders in this group. He's turned state's evidence. Of course it's important that his credibility be viewed as sound by the jury when this case comes to trial."
Carlson says the case keeps getting more bizarre.
"That's the most bizarre set of homicides this year in Georgia, because they say it was accomplished by military people whom we have a lot of confidence in. This has fueled speculation by the public about how broadly militia activity goes within the military." he says.
Four of the men indicted this week are former soldiers.
The Army says such a plot is extremely rare, and authorities are confident there are no unknown subjects.
Tags: Fort Stewart, anti-government militia, UGA law professor Ronald Carlson, Michael Burnett, overthrow the government
Bottom Content