Section Branding
Header Content
Increasing The Number Of Graduates
Primary Content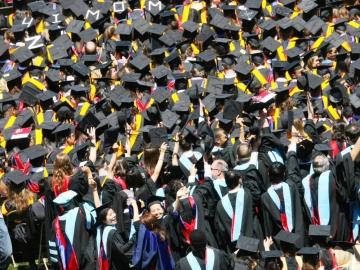 Colleges across Georgia are looking at innovative ways to reach Governor Deal's goal of increasing the number of graduates by a quarter million by 20-20. And schools across the state have found a wide variety of approaches.
The University of Georgia is offering special one-hour "Odessy" seminars on a variety of topics to freshmen. A professor will talk to a group of just 15 to 18 students on something the professor is passionate about. Laura Jolly, Vice President of Instruction, says they want to build relationships between the students and faculty.
She says "Engaging the student, connecting them to the university community early in their academic career, even within the first three months on campus is essential."
Georgia Perimeter College in Clarkston is focusing on working with high school students. Coletta Carter is the assistant Vice President for Student Development.
She says "The research shows that if a student can successfully pass a college Algebra course, it increases the chances of them actually being successful in college overall."
Carter says they are assessing the skills of high school sophomores, to help them get to where they need to be by the time they enter college.
Kennesaw State University is expanding its program to provide graduation coaches to students. It offers students one person they can talk to about academic and financial obstacles to staying in school. Vice President for Academic Affairs Ken Harmon says they started with Latino students and have retained almost 100 percent.
He says "They had higher GPA's and had actually more credit hours than the rest of our students who were not participating in the graduation program."
Armstrong Atlantic State University in Savannah is offering college credit for military service to its students, according to Provost Carey Adams.
He says they are "Helping them to progress more quickly through our degree programs by recognizing the value of the learning they have done. And then getting them into a program that they can complete here for their degree."
College officials say they are working on eliminating the barriers to graduation across the board.
Tags: UGA, Armstrong Atlantic State University, kennesaw state university, governor deal, Georgia Perimeter College, increasing graduation rates
Bottom Content