Section Branding
Header Content
Pinpoint Heritage Museum Opens Doors
Primary Content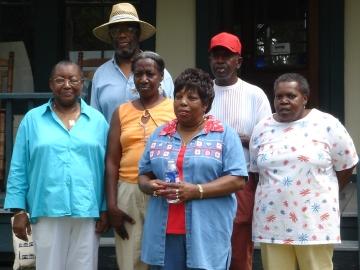 The Georgia coast has a new museum dedicated to Gullah-Geechee culture.
After years of talk, the Pinpoint Heritage Museum near Savannah is opening eight hours a week, starting this Saturday.
The museum is in a former oyster and crab processing factory that closed in 1985.
The seafood facility was iconic to the tight-knit community settled in the 1890's by ex-slaves and their descendents known as Gullah-Geechee.
Now, a refurbished complex of buildings features multimedia presentations about seafood and its harvesting as a local way of life.
The Coastal Heritage Society's Patricia Guerrero-Knight says, Pinpoint's history is one of struggle and determination.
"To talk about the Pinpoint culture is to talk about food, about music, about religion and about family ties because it's all tied to a people that really wanted to hold on to their culture," Guerrero-Knight says.
The Coastal Heritage Society's Tania Smith-Jones spent summers crabbing in Pinpoint and says, the museum gives a welcome recognition to a vanishing way of life.
"There was always lots of food, just fun and always something to do in the community and they always come together like one big family," Smith-Jones says.
U.S. Supreme Court Justice and Pinpoint native Clarence Thomas spoke at the museum's formal dedication last year.
A Texas real estate magnate financed the museum, which is now operated by the local heritage non-profit.
For more information, click on this link.
Tags: GPB News, orlando montoya, Coastal Heritage Society, nicholas lawrence, Clarence Thomas, PAtricia Guerrero-Knight, Pinpoint, Gullah Geechee, Tania Smith-Jones
Bottom Content