Section Branding
Header Content
Debate Continues About Vogtle Construction
Primary Content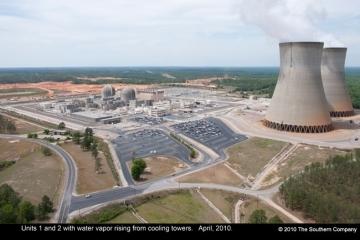 Public Service Commission staff Thursday recommended the panel certify construction costs for Plant Vogtle from July through December of 2011. That means utility experts think Georgia Power spent money wisely building the nuclear plant in east Georgia.
But consumer advocates and PSC commissioners continue to haggle over whether consumers are protected from overpaying.
Since January 2011, Georgia power customers have been paying a percentage of their base power bill to fund construction of two new reactors at Plant Vogtle.
Thursday's hearing was part of a bi-annual review of construction costs, which the PSC will formally rule on next week.
But Helen O'Leary with the consumer advocacy group Georgia Watch, told PSC commissioners that since the construction costs are considered trade secret, consumers can't argue about whether they are legitimate.
She says "The way it's set up now commissioner, nothing is in place to protect consumers."
But after the hearing, Commissioner Stan Wise refuted that notion, since the PSC can allow customers to re-coup costs the panel deems unnecessary.
He says "That is such a bogus statement. I mean, every six months the staff, this commission reviews the expenses as they come up. The level of scrutiny that this commission is putting this company through is unprecedented."
Georgia Power officials say they file monthly reports to the PSC and there is a lot of transparency with the commission.
Tags: PSC, Public Service Commission, Stan Wise, Plant Vogtle, consumers, Georgia Watch, construction costs, Helen O'Leary
Bottom Content