Section Branding
Header Content
Water Transfer Helps Mussels
Primary Content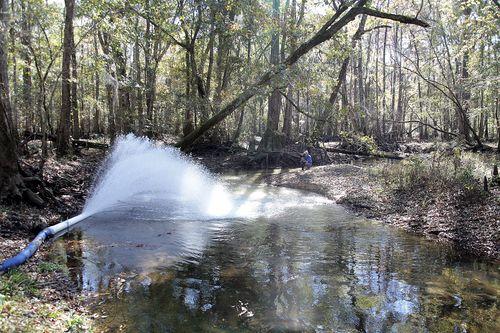 Federal officials are pumping water into a southwest Georgia waterway to help save endangered freshwater mussels. Years of drought have taken their toll on Spring Creek.
The U.S. Fish and Wildlife Service is taking water from two wells they drilled last year as part of the Spring Creek water augmentation project. The water is now turned on and being piped directly into the creek.
Doug Wilson with the Georgia Water Planning and Policy Center in Albany says the Miller County Creek is considered a biological "hot spot" with fourteen species of mussels, three of them endangered.
"When the stream gets really, really low in these hot conditions water heats up. Of course the water we're pumping is about 68 degrees because that's the temperature of the water in the aquifer. So, that's lowering the temperature which is apparently a good thing as well."
The creek is low due to a lack of rain and heavy use of water by farmers irrigating their crops. The water will stay on until creek levels rise.
Tags: Colquitt, GPB, Josephine Bennett, georgia drought, USFWS, Miller County, Doug Wilson, Georgia Water Planning and Policy Center
Bottom Content