Section Branding
Header Content
High Court Ruling Energizes GOP
Primary Content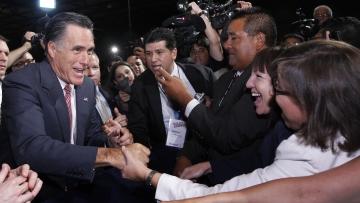 The U.S. Supreme Court decision to uphold Pres. Obama's healthcare law is mobilizing Georgia Republicans. Fundraising and volunteer activity spiked on Thursday, and a new state poll shows the lead of GOP presumptive presidential nominee, Mitt Romney, is widening.
For Georgia Republicans, the ruling means one thing: electing Romney is the only way to repeal the law.
State GOP officials say donations surged upon news of the ruling, and volunteers are flooding the party's Web site.
Mark Rountree is Georgia-based Republican strategist and pollster. His firm, Landmark Communications in conjunction with Rosetta Stone, conducted a poll Thursday that shows Romney capturing 52 percent of the Georgia vote. That's a ten-point lead over Obama – his biggest lead to date.
Rountree says it's notable because Democrats once thought Georgia could be in play.
"It's galvanizing," he said. "There's no simpler way to put it. If Romney had to have a series of political events happen for him, they're happening for him."
Twenty-three percent of black voters polled said they planned to vote for Romney. Rountree says that's the strongest support from black Georgians for a GOP candidate in modern history.
"If those numbers hold, and they may not, that would be sea change in Georgia," he said.
Georgia Republicans up until now have been lukewarm to Romney. Newt Gingrich won the state's primary before leaving the race, and Gov. Nathan Deal only recently endorsed Romney.
But Georgia GOP spokesman Chris Kelleher says Republicans now see unseating Mr. Obama as the only way to repeal the healthcare law.
"We have a volunteer signup on our Web site and we got more submissions yesterday than we got in the previous month combined," he said. "I would say that sort of awoke the sleeping giant. We've got a lot of party members whose sights are now set on November because we gotta win now."
Georgia Democrats said the ruling had a smaller impact, largely because it was a win for Mr. Obama. But nonetheless they say they feel vindicated by the decision. Kristin Oblander, who runs the Oblander Group, a political fundraising firm in Atlanta, says she's seeing a surge of enthusiasm.
"I have not seen a level of excitement this high since the '08 election," Oblander said.
The Supreme Court upheld Obama's Affordable Care Act in an historic 5-4 decision. The ruling maens 123,000 young Georgians who gained health insurance under their parent's plans due to the law will now be able to keep it. The decision also leaves in place the so-called individual mandate. It requires Georgia's nearly 2 million uninsured residents to buy health insurance or pay a penalty to the IRS.
Tags: U.S. Supreme Court, Obama healthcare law, healthcare overhaul, high court ruling
Bottom Content