Section Branding
Header Content
Georgia Dodges Hurricanes For Now
Primary Content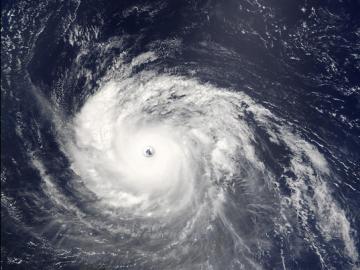 This year's Atlantic hurricane season got off to an early start with two tropical storms that formed quickly off Georgia's coast.
Like many storms that came before them, Alberto and Beryl weren't much of a threat to the state.
Coastal-area researchers are hoping to dispel a widely-held notion on Georgia's coast -- that hurricanes never will be a threat.
Georgia hasn't taken a direct hit from a major hurricane in more than a century.
Over the last hundred years, only four minor storms made landfall here.
The last one was David 33 years ago.
That's why the the National Hurricane Center's new director Rick Knabb told NPR's Morning Edition last month that he fears for places like Georgia.
"I worry about places like Tampa Bay, Florida, the Florida Keys, Savannah, Georgia, the New Jersey coastline - places that haven't been hit by a devastating hurricane in a long time," Knabb says. "All these places are incredibly vulnerable and it would be a really bad situation if a major hurricane hit. And it's really a matter of when, not if."
Georgia's indented and relatively short coastline make a direct hit less likely here than in Florida or the Carolinas which have longer coastlines.
But our recent luck doesn't tell the whole story.
Mark Welford of Statesboro's Georgia Southern University is part of research team getting grant money to dig a little deeper into the state's hurricane history.
"When you look at the incidents probably what it suggests is that the 20th century was unusual and that has then created this false sense of security," Welford says.
The Georgia Sea Grant program awarded Welford and his colleagues a $130,000 grant to comb through records for any information on tropical storms and hurricanes that hit Georgia from 1750 to 1850.
They already know three very big storms made landfall here in the late 1800s, killing thousands of people.
"Everybody assumes that Savannah would never be hit and I'm afraid it has been or had some near misses in the past but those were some time in the past," Welford says.
He says, we still don't know exactly where earlier storms made landfall, how strong they were and if others were overlooked in prior research.
The Georgia Southern team hopes a better understanding of history will erase some of that false sense of security.
Clark Alexander of Savannah's Skidaway Institute of Oceanography is approaching complacent attitudes in a different way.
He got a $57,000 grant to help create an easy-to-use web-based map of hazards facing Georgia's coast.
You can click to the Coastal Hazards Portal here.
"There is less cultural memory, if you will, of these kind of events," Alexander says. "And that's one of the reasons why we thought it was so important to bring all this information to the public where they can see it in a visual way."
The map includes sea level rise, historic hurricane tracks, erosion, storm surge and flood zones.
The Coastal Zone Management Program funded the Coastal Hazards Portal, allowing residents to zoom in to their risk.
"At its most fundamental, these sorts of data sets can allow you to assess your exposure at your address," Alexander says. "You can see how close you are to where the predicted surges are for a Category One, Category Two or Category Three hurricane."
Alexander says, residents who think they're immune from storms might in for a sobering lesson on their computer screens.
That's because the odds indeed have played in on our favor recently.
But then again, a betting man might say that we're overdue.
Tags: Skidaway Institute of Oceanography, Georgia Southern University, Statesboro, hurricane season, GPB News, orlando montoya, Clark Alexander, National Hurricane Center, Georgia Sea Grant, Rick Knabb, Mark Welford, Coastal Hazards Portal, Coastal Zone Management Program
Bottom Content