Section Branding
Header Content
Nuclear Opponents Seize On Overruns
Primary Content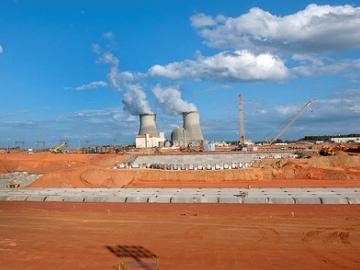 Georgia Power customers voiced concerns at a public hearing Wednesday about cost overruns at two new nuclear power reactors in east Georgia.
Whether Southern Company goes over or stays under an estimated $6 billion cost estimate directly affects anyone paying a bill to Georgia Power, the state's largest electric utility.
Customers will bear the cost of overages at Plant Vogtle near Augusta.
Anti-nuclear campaigner Emily Kaiser told members of the state Public Service Commission, new reactors aren't needed and will hurt rate-payers.
"I don't understand why it is that we're continuing to go forward with this project when there's no reasonable expectation that it'll stay within budget," Kaiser said.
But a utility industry consultant working for the PSC testified, the project still has room to exceed its budget and still be an economic value to customers.
"It still has room to exceed the budget and still be economic," said the consultant, Philip Hayet. "That's what this analysis tells you."
Elected commissioners are overseeing construction of the nation's first new nuclear reactors in three decades.
Southern Company has spent $1.8 billion so far on two new nuclear reactors at Plant Vogtle near Augusta.
The once-secret number was revealed at the hearing when Georgia Power representatives consented to release it.
The public documents concerning the reactors' costs were heavily redacted for "trade secrets."
A Southern Company spokesman says the company is continuing discussions with its contractors over the current project schedule and costs.
Tags: Georgia Power, PSC, Augusta, Public Service Commission, Southern Company, Plant Vogtle, Burke County, Alvin W. Vogtle Electric Generating Plant, Georgia Public Service Commission, Vogtle, Vogtle Electric Generating Plant, Georgia PSC, GPB News, Georgia's Public Service Commission, orlando montoya, Public Service Commission of Georgia, Southern Co., Vogtle construction costs, Emily Kaiser, Philip Hayet, trade secrets
Bottom Content